In response to the local economic climate, combined with depressed yearling sale prices, Dr Andreas Jacobs and the Erupt Syndicate are adjusting Erupt's fee for the 2019 breeding season to R30,000, payable on live foal.
R30k for a dual Gr1 winning son of Dubawi is value indeed.  Dubawi, accepted as one of the world's super sires, has 100 Group winners his credit, with 39 at Gr1 level to date.  His record of 16% Stakes winners and 11% Group winners earns him a place alongside the likes of Galileo and he already has a number of sons forging their own legacies at stud.
Alan Cooper, racing manager to the Niarchos family, relates that they acquired granddam Salvora, which has allowed them to help develop the family.  Salvora produced Erupt's dam, Mare Nostrum, a useful race mare in her own right, as well as a rewarding part of the broodmare band and other members of the family grace paddocks and stallion barns across the world.  "It's a very international pedigree," he says with satisfaction.
Erupt was designed on the Mr Prospector-Nijinsky cross in the hope that the Mr Prospector would inject an element of brilliance.  Over three seasons, the colt rewarded them with 17 career starts for 5 wins, including the 2400m Gr1 Longchamp Grand Prix de Paris, 1m 4f Gr1 Woodbine Canadian International Stakes and 2400m Gr3 Chantilly Prix du Lys.   Alan reflects, "Although Erupt won over a mile and a half, he was perhaps marginally better over a mile and a quarter, but he had a tremendous turn of foot that allowed him to excel over further.  He had that touch of class we all hope for and hopefully he will transmit it to his progeny."
The decision to stand him in South Africa followed on from their success with Judpot.  "The Dubawi sire line is an important one to have and we think the pedigree can work well in South Africa.  One always wants to see the pedigrees you've built continue and he has found a very good proven home at Maine Chance."
Debut season
Erupt arrived in late 2018 due to import quarantine regulations and was launched at the Maine Chance Farms stallion day in September.  With shareholders including the likes of Maine Chance Farms, Varsfontein Stud, Drakenstein Stud Farm, Mauritzfontein Stud, Wilgerbosdrift Stud, Lammerskraal Stud, Ridgemont-Highlands, Normandy Stud and Avontuur Stud, he served a 70-strong and varied book.  Among the marquee mares from his first book are Bilateral, Cosmic Light, Felicity Flyer, Happy Ever After and Mina Salaam and his first crop is being eagerly awaited.  Alan continues, "He was well supported in his first season and the feedback is that people like him.  We hope he'll have even more support in his second season and have shipped out two additional mares in Kitoko (Montjeu – Breathe) and Divine Inspiration (Medaglia D'Oro – Divine Presence) as well as purchasing Arissa, Kashmira and Pecan Nut  from the recent Moutonshoek sale in partnership with Maine Chance Farms to add to his 2019 book."
Type
Erupt is made very much in the mould of his illustrious sire.  He has substance, a wonderful depth of girth and good bone, with short cannons and low hocks and it is a testament to his conformation that he withstood the rigours of racing and international travel and retired sound.  Completing the package is his easy, laid back temperament.  Maine Chance Farms stud manager Tim Bootsma concurs.  "He doesn't stress – about anything.  Due to quarantine regulations, after arrival he had to spend two weeks in quarantine on the farm and he took it in his stride.  He's travelled the world and it hasn't worried him, it's wonderful.  He's very much like Silvano –still one of highest ranked travelled horses in world – and has that same switched off personality.  I think he got races won just on that."
Fee
With regard to the revised fee, Tim says, "We want to provide value in the market and, for people who support our stallions, to see a good return.  The idea is to look after our shareholders and fellow breeders and help them make a profit if possible.  Our stallions have always been reasonably priced and fees have never jumped up by much.  Querari has gone up R5k this season, but he's still only R65k now.  We don't want to blow anyone out of the water."
With the market likely to remain under pressure for some time, breeders will be planning matings more carefully than ever.  The recent loss of Captain Al and Dynasty have thinned the ranks at the top of the sires list, and the decision whether to go with an established sire or take a chance on an unknown quantity will weigh heavily.  Still, a sound, sane, attractive, European Gr1 winning son of Dubawi available on our doorstep for R30k live foal still feels 'pinch me' unreal.  Tim concurs.  "One won't know for sure until his progeny hit the track, but this is a million dollar horse, discounted massively due to the prevailing economic conditions.  I think we are lucky to have him at any price."
Enquiries on services as well as shares can be directed to Justin Vermaak, who has been appointed as the marketing manager.
‹ Previous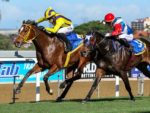 Van Halen's Back On Stage!