Over the years, stayers have dropped to the bottom of the food chain in the SA horseracing hierarchy. Few breed them. Less buy them – and nobody is incentivising them.
We are not alone, it seems.
But it's a great pity really as staying races are great crowd favourites and often spectacles that mirror life itself.
The gradual decline of our own Gold Cup, run at Greyville since 1921, and for decades the benchmark of our staying excellence – but now a modest Gr3 event – is the ultimate indictment that something is not the way it should be.
The British Horseracing Authority recently acknowledged that staying horses often become public favourites due to their lengthier careers, courage and durability, and are an important cog in the thoroughbred gene pool.
They resolved to sit down and come up with a plan to incentivise and encourage behavioural change relating to the breeding, buying, owning and training of stamina horses.
They put the decline in the quality of their stayers over the past two decades in very simple terms – down to a shift in commercial breeding patters and reactive changes to their racing programme. Our issues are the same and we can't blame breeders – they are, after all, catering for the market.
The BHA did some interesting conscience prodding and called on the industry at large to stand up and demonstrate a collective responsibility to protecting, encouraging and investing in stamina bloodlines.
But patriotic calls and bold talk are cheap, so they also came up with a plan to improve the racing programme as an incentive.
During 2018, 2019 and 2020, the BHA Development fund have allocated and invested close to the equivalent of R36 million in stamina races, with individual jurisdictions supplementing incremental increases.
Since 2016, several similar improvements were introduced in Ireland, France and Germany for stayers, which was a demonstration of the commitment to the concept from the European Pattern Committee.
So who will take the lead here in our own backyard – or do we have more pressing issues distracting us?
Gold Cup entries due by 11h00 on Monday 8 July
Weights published on same day
Supplementary entries by 11h00 on Monday 15 July
Declarations due by 11h00 on Thursday 18 July
‹ Previous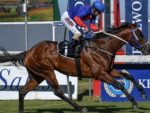 Charity Turf Challenge – Latest