In a festive family affair, the 50-1 Dharma stormed home at Kenilworth on Saturday to score the biggest upset in recent memory in the R250 000 Gr3 Winter Derby.
The son of retired stallion Royal Air Force, who was trained by Geoff Woodruff, is trained out of Milnerton by Geoff's daughter Lucinda, which added a further domestic angle – the winner being owned and bred by Terry and Annabel Andrews, and ridden by their jockey son, Anthony.
But all of the family angles and celebrations in the world would not have helped the form students as the MR 71 rated gelding relished the step up in trip to comprehensively outstay his higher regarded rivals – including the Snaith's smart Nexus (88) and the favourite, Majestic Mozart (102), as well as the disappointing pacesetter Herodotus (101), who finished over 12 lengths back.
In the absence of the Winter Series stars One World and Vardy, the race always had an open look about it – but paying close on R40 a win on the tote, few saw Dharma coming!
Anthony Andrews had the gelding relaxed in midfield as Herodotus showed the way to Line Editor and Anse Lazio.
In the run for home, East Cape Derby winner St Vladimir appeared to go wrong and faded out as Nexus burst clear under Richard Fourie and looked a winner.
But Andrews appeared to still have plenty under him and he got to work on Dharma who finished powerfully to draw alongside Nexus at the 100m marker.
Majestic Mozart was switched out off the rail and found himself with nowhere to go as any gap between Nexus and Dharma disappeared. Fayd'herbe checked Majestic Mozart, but he already appeared a beaten horse and Dharma ended up winning going away by a half length in a time of 153,93 secs.
Majestic Mozart was a length back in third.
Line Editor and St Vladimir finished a distance off the winner.
By Royal Air Force (Jet Master), who once stood at Sorrento, but got little support, the winner is out of the unraced Dr Fong mare, Karma.
Dharma has won 2 races with 5 places from 11 starts for stakes of R264 850.
His win contributed in no small measure to the R411 000 Pick 6 dividend.
Stipes Report excerpt:
Jockey G Behr (LINE EDITOR) reported that he felt something amiss with this gelding in running. The Veterinary Surgeon was requested to examine gelding on its return to the unsaddling enclosure and submit a report.
In view of the performance from ST VLADIMIR (C Orffer) (99.99 lengths), which was hanging out throughout, the Veterinary Surgeon was requested to examine colt on its return to the unsaddling enclosure and submit a report.
 Leaving the 400m when attempting a narrow run down the inside running rail MAJESTIC MOZART (B Fayd'Herbe) became cramped for galloping room on the inside of HERODOTUS (S Khumalo), which had to steady when carried in slightly by NEXUS (R Fourie), which shifted in. A Member of the Stipendiary Board called for a race review and after reviewing the video evidence took no further action. Jockey R Fourie was charged with a contravention of Rule 62.2.7 in that he, as the rider of NEXUS, failed to ensure that he did not cause interference to runners to his inside when he shifted in at about the 400M. Jockey R Fourie signed an admission of guilt and when coming to a suitable penalty the Board took into account his riding record, and he was suspended from riding in races for a period of 7 days. (w.e.f. 07/07/2019 to 13/07/2019 inclusive)
MAJESTIC MOZART (B Fayd'Herbe) eased briefly off the heels of DHARMA (A Andrews) in the concluding stages.
Jockey M J Byleveld (RETRO EFFECT) reported that this gelding took no interest.
_________
Gr3 Winter Derby (SAf-Gr3)
Kenilworth, South Africa, June 29, R250k, 2400m, turf, soft, 2.33.93
1 – DHARMA (SAF), 60.0, ch g 3, Royal Air Force (SAF) – Karma (SAF) by Dr Fong . Owner Mr & Mrs T D Andrews; Breeder TD Andrews; trainer GV Woodruff; jockey A Andrews
2 – Nexus (SAF), 60.0, b c 3, Dynasty (SAF) – Mystery Dame (SAF) by Jet Master (SAF)
3 – Majestic Mozart (SAF), 60.0, b g 3, Dynasty (SAF) – Sound The Flute (USA) by Theatrical (IRE)
Margins: 0.50, 1.00, 2.75
‹ Previous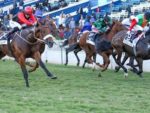 JR Grabs The Million