Is it really possible that, in 2019, some are still questioning the value of sectional times?
Yes, apparently.
The latest foray in the decades long debate coming from former Racing Post editor and current contributor Bruce Millington, who suggested that sectional times are not "useful."
The view is surely shared by some in the "let's use anecdotes to define performance" camp who trot out the rolled-eyes emoji when one of the several prominent sectional-loving analysts in the UK–James Willoughby and Simon Rowlands just to name two–spread the wisdom about the value of timing.

Now, it's not as if these two analysts are exactly ahead of the curve globally, but they sure are in their own country, and the longer the UK goes without full sectional timing of all race meetings, the less approachable their racing will be to anyone who appreciates modern analytics as a way to inform a betting opinion.
The archives of the Daily Racing Form, available via the Keeneland Library and in partnership with the University of Kentucky, are replete with a history of sectional times in American racing, dating back into the late 1800s.
A September 1918 story recalled what was then the record-setting performance of Roseben over seven furlongs at Belmont Park.
"When the famous Roseben established the American record of 1:22 for seven-eighths of a mile in 1906, the odds of 1 to 80 were laid against him to beat Beauclere…The fractional time of the race gives some idea of the wonderful speed of Roseben. It was as follows: 12, 23 4/5, 35 1/5, 46 4/5, 1:10 2/5, 1:22."

In June 1920, once Man o' War emerged as a powerful force, his performance was compared to Roseben given the times each recorded while acknowledging the ease in which Man o' War recorded it.
Now, the geography of American tracks has long made it easier to record sectionals. You can almost always see the horses on an American track compared to some of the wildly undulating, expansive courses across the U.K. But technology has rendered that luxury unnecessary.
Time does matter. And it has throughout the history of the sport–whether or not someone had a watch on the race.
Time puts performance into measurable perspective. Conditions vary–going, rail placement, wind speed, wind direction, etc. Any jurisdiction that wants to persist without sectional timing as an absolutely necessary ingredient in the sport is akin to favoring a steam locomotive over a bullet train.
Perhaps that's the point, though? Are bookmakers interested in keeping punters in the dark for as long as possible? Is that good for business?
When posed the question on Twitter, Rowlands offered this take.
"I think bookies are a bit suspicious of them [sectionals] for that reason, but the main blocker here has been the media, not least the Racing Post, which either has to admit it has been short-changing its readers for ages or carry on in denial. That's looking 8.0 vs 1.10 currently."
How sad.
Progress and modernization eschewed for continuing a long-held, and bad, opinion.
Now, there are plenty of errors in sectional timing.
In a modern sense–a bad tracking device, wireless interference or any number of other anomalies can occur. In an antiquated sense, a hand-time can be wildly mistaken too. The more timing data you have, the easier it is to identify where errors exist.
American race-timing is sullied by the presence of "run-up," an untimed-portion of the race between the starting gate and the position on the track that is actually the "race distance," often the place where timing poles are placed to begin timing.
On dirt, run-ups are fairly consistent and can be measured more accurately. On turf, it's a bit of a roving nightmare. If you want to learn more about run-ups, I offered this detailed assessment several years ago (and for full disclosure, I spent four years as Director of Racing Information for race-tracking and technology firm Trakus).
On balance, our sport is far better with more data. The betting public is accustomed to sorting their own data or having it provided in neat snippets by broadcasters or other media.
American-based punter Dan Ciotoli chimed in on the conversation. Ciotoli recently shifted the majority of his play to the commingled pools of Hong Kong, attracted by the transparency the jurisdiction offers, the liquidity in its pools and the value of its data.
"I am obsessed with the sectional times in Hong Kong," he said.
"One of Hong Kong racing's greatest appeals is accurately timed races. My attitude on this is fairly libertarian. I want as much data and information as possible. Let me, the bettor, sort out what I think is or is not valuable. In today's world, the jurisdiction that informs me most, and in the most efficient manner, will attract my money. It's that simple."
There are plenty of companies that have proven an ability to record sectionals–either of the leader or of all horses via tracking technology. There is, without question, a cost.
In a 2012 segment on At The Races (available here via YouTube) Willoughby offered the following: "The simple information of how fast or slow horses run compared to a benchmark for the course and distance is fundamental to appreciating not just racehorse merit, but pace as well."
In our data-driven world, analytics are key to attracting betting, and more of it, on racing. The lack of a publication which shows the exact method by which sectional times predict who will win which race does not, on its own, suggest the practice is without merit.

Royal Ascot will garner the attention of the world next week, and while sectional times have graced the five-day feature for some time, a more robust presentation would be welcomed.
Beginning with this Royal meeting, Hong Kong will host a global tote on the 30-race stand, the first of its kind. Traditionally, the Hong Kong-based simulcasts of Royal Ascot have held at least US$15 million a day, when only offered to Hong Kong's punters. Expect more this year. And with that, comes the added responsibility to meet worldwide punters with data a modern sport should offer.
The sooner the UK (and Ireland) come on board with sectional timing of all races (yes, even jumps racing), the better. The antiquated opinions of media, or the business-minded naysayers amongst bookmakers, must be fought with fact.
It's about time.
Read more on www.thoroughbreddailynews.com
‹ Previous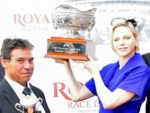 Ownership Infringement – Hill Fined