Cape trainer Glen Kotzen looks to be taking no chances in his bid to get his four-year-old colt Eyes Wide Open into the country's premier race, the R4.25-million, Gr1 Vodacom Durban July at Greyville on July 6, and has supplemented him into the entries for the Gr3 Cup Trial over 1 800m on Saturday 8 June.
The condition for the famous Greyville race on the first Saturday in July state that the winner of the Betting World 1900 – and also the Cup Trial – will 'enjoy preferential consideration for inclusion in the final field' but there is no guarantee.
Eyes Wide Open won the Betting World 1900 but on the current July Log his name only features among the horses  'on the outside looking in'.
While his performance in the 1 900m Greyville race was excellent, there are many hopefuls looking for a run and Kotzen appears to be taking no chances.
At the final supplementary stage for the Rising Sun Gold Challenge and the Cup Trial, two others runners from the Betting World 1900, Kampala Kampari and Made To Conquer, were supplemented into the Cup Trial.
Justin Snaith's five-year-old gelding Made To Conquer could already have secured a Vodacom Durban July berth being in 12th position on the current July Log, but his third place in the 1 900m event, when considered the likely winner, may have taken some of the shine off his July berth chances.
Kampala Kampari is not a July entry but trainer Andre Nel could be looking ahead to other races and would hope to see his charge improving considerably on his 10th out of 12 finish in the Betting World 1 900.
There were two supplementary entries for the Gr2 Post Merchants with Port Elizabeth trainer Yvette Bremner entering her four-year-old gelding Quinlan that ran a top race when fourth in the Grade 1 Computaform Sprint at Turffontein and was then narrowly beaten by Chantyman in a 1000m Pinnacle Stakes on Saturday on the all-weather.
Tobie Spies also supplemented Gr1 winner Van Halen.
Declarations are due at 11h00 on Monday 3 June.
R250 000 1800m
CUP TRIAL (Grade 3)
Open
WFA: 2yrs-11.5kgs 3yrs-2kgs 
No Apprentice Allowance
16
Lady In Black
(4F)
62.5
112
A
Dennis Drier
7
$Eyes Wide Open
(4C)
61
109
A
Glen Kotzen
3
Roy Had Enough (AUS)
(4C)
61
109
A
Frank Robinson
21
$Made To Conquer

Accepted

(5G)
60.5
108
A
Justin Snaith
5
$Kampala Campari
(5G)
60
107
A
Andre Nel
20
Dark Moon Rising

Accepted

(5G)
59.5
106
A
Paul Lafferty
9
Doublemint

Accepted

(4C)
58.5
104
A
Justin Snaith
8
Social Order
(5G)
57
101
BAT
Sean Tarry
22
Captain And Master
(4C)
56
99
AT
Sean Tarry
24
The Dazzler
(4G)
56
99
A
Mike de Kock
23
Soldier On
(4G)
55.5
98
BA
Stuart Pettigrew
2
Roy's Riviera (AUS)
(4F)
55
97
A
Frank Robinson
14
Hudoo Magic (AUS)

Scratched

(3C)
53.5
98
A
Brett Crawford
1
Run Red
(4G)
53.5
94
A
Andre Nel
18
Warrior's Rest
(4G)
53.5
94
BAT
Sean Tarry
13
Blackball
(4G)
53
93
A
Gavin van Zyl
14
Q The Music
(5G)
53
93
AT
Andre Nel
12
Silva's Bullet
(4G)
52
91
A
Dean Kannemeyer
17
Tristful
(3G)
51.5
94
A
Tony Rivalland
6
Protea Paradise
(3G)
50.5
92
BA
Mike de Kock
15
Kapen Pride
(4G)
49.5
86
A
Dean Kannemeyer
19
Mr Winsome
(6G)
49.5
86
A
Dean Kannemeyer
11
Silver God
(4G)
49
85
ATM
Sean Tarry
4
The Sultans Bazaar
(3G)
48.5
88
A
Dean Kannemeyer
10
Last Of The Legend
(3C)
44.5
80
A
Sean Tarry
(25)
Gold Circle Press Release published on 31 May 2019
‹ Previous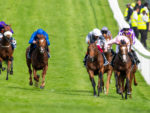 Seventh Investec Derby For O'Brien