Trainer Paul Lafferty is back at his Summerveld post after suffering from a 'racing heart' that saw him spend a week in hospital.
Tabnews reports that Laff was treated for cancer some four years ago and after intensive chemotherapy was finally diagnosed as being in remission for the disease.However, it is believed all the chemotherapy took its toll and has caused damage to his heart.
In a message to his patrons published today, the veteran trainer said that he would be catching up with his regular updates and thanked everybody for their wishes and concern.
The Sporting Post research indicated that fibrillation  is a quivering or irregular heartbeat (arrhythmia) that can lead to blood clots, stroke, heart failure and other heart-related complications. While we may question the relevance of the statistic in an African sense, apparently at least 2.7 million Americans are living with AFib.
‹ Previous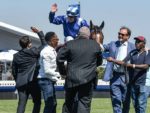 Wanted – The Next Bling Or Muis!