The NHA Handicappers have reported on the Scottsville classic day action of last weekend.
Gr3 Track & Ball Oaks
SEVILLE ORANGE remains unchanged on a rating of 102 after she made virtually all the running to win the Track and Ball Oaks (Grade 3) over 2400m at Scottsville on Saturday, 22 June.
The Handicappers were unanimous in their opinion that SEVILLE ORANGE herself made for the ideal line horse by confirming her SA Oaks (Grade 2) and Woolavington (Grade 1) performances on Saturday thus fully justifying her adjustments for those races and accordingly rated the race with her running to 102.
Runner-up FLICHITY BY FARR goes up from 93 to 96, while third placed SNAPSCAN was raised from 89 to 95 and continues to improve since being adjusted for her performances in the East Cape Oaks and thereafter the Woolavington (Grade 1).  Some discretion was applied in both instances as they did in fact run to ratings of 100 apiece.
Fifth placed BONDIBLU was raised from 82 to 88, while SABINA'S DYNASTY drops from 105 to 104 and DYNASTY'S BLOSSOM drops from 93 to 92.  There were no other changes.
Gr3 Track & Ball Derby
ROY HAD ENOUGH's rating remains unchanged on 108 after he came from well off the pace to win the Track and Ball Derby (Grade 3) over 2400m at Scottsville on Saturday.  Here, it was felt by the Handicappers that the ultra-consistent 5th placed horse SILVER ROSE made for the best line horse.
Rating the race this way actually sees the winner, runner-up CHARLES and third placed DAWN ASSAULT all running below their ratings and accordingly all three remain unchanged.  Fourth placed WHITE LIGHTNING was picked up from 80 to 85, well below what he is actually achieving (100).
When considering WHITE LIGHTNING's adjustment the Handicappers took into consideration that this grey gelding was attempting a new distance category but also considered that WHITE LIGHTNING's performance here was somewhat 'out of sync' with its overall profile.  WHITE LIGHTNING's future performances will be monitored closely.
In the only other change, SECRET POTION was given a small drop and goes from 102 to 101.
‹ Previous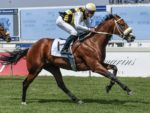 3yo's – Should You Be Backing Them?