Punters can look forward to betting into massive pools at the Vodacom Durban July meeting at Greyville on Saturday 6 July, courtesy of a number of carryovers.
There will be R5 million boosting the Pick 6, which begins in Race 4, and the MAXIPOOL is calculated to reach R15 million.
Perhaps one of the most exciting carryovers comes in the Vodacom Durban July itself where there is a Quartet MAXIPOOL with R2 million being added. This pool is likely to reach R16 million, which makes this the most attractive single-race bet at the meeting.
Other carryovers announced include the Pick 3 beginning in Race 6, of R100,000, with a likely pool of R500,000. The Pick 3 incorporates the Vodacom Durban July which is run as Race 7.
A second Jackpot, from Races 9 to 12, has been included on the card and this will start off with a carryover of R100,000 and is likely to reach R1-million.
Vodacom Durban July Menu
RACE 2: BiPot ONE Leg 1 – likely pool R800,000
RACE 3: PA Leg 1 – likely pool R3,500,000
RACE 4: Pick 6 MEGAPOOL Leg 1 – R5,000,000 carryover; likely pool R15,000,000
RACE 5: Jackpot ONE Leg 1 – likely pool R2,300,000!
RACE 6: Pick 3 Leg 1 – R100,000 carryover; likely pool R500,000
RACE 7: Quartet MAXIPOOL – R2,000,000 carryover; likely pool R16,000,000
BiPot TWO Leg 1 – likely pool R200,000
RACE 9: Jackpot TWO Leg 1 – R50,000 carryover; likely pool R1,000,000
The Sporting Post racecards will be available online from midday on Thursday 27 June 2019.
‹ Previous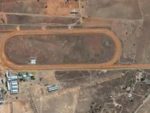 Flamingo Park Today