It's just bad for racing. That was the word from a few trainers and jockeys following Tuesday's Vaal meeting where no false rail was used.
A leading trainer called the Sporting Post to say that the absence of a false rail had been discussed previously with Phumelela.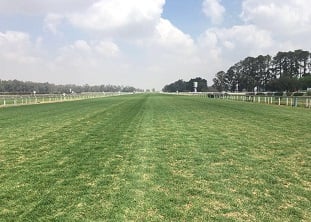 The Sporting Post can confirm that we have fielded previous complaints in this regard from a variety of stakeholders. We were told at the time that track management do try and vary the positioning of the rail.
Without even a nominal false rail – as on Tuesday – to fan the horses out, there is bunching and resultant traffic issues and it often becomes a hit-and-miss affair, particularly for those making their run from off the pace.
"This is really bad for the game. An owner pays keep for months. The horse has form and is fit.The racing is unfair and it becomes a lucky dip. It is also unsafe and dangerous for the jockeys. And punters may as well go and play the daily Lotto. The tension in the jockey room was tangible too," said one trainer who preferred to remain anonymous as 'history has shown that when you open your mouth – even constructively – the door gets shut in your face.'



The Stipes report reflects the following incidents that were recorded:
At approximately the 200m BOSS BABE (R Danielson) had to switch out to continue its run.
Shortly before the finish line OURO (G Lerena) had to steady momentarily when awkwardly placed between ROUGE ALLURE (R Munger) and SINGING IN SEATTLE (M Mjoka), which rolled out.
At approximately the 200m PURPLE DIAMOND (L Hewitson) had to steady and switch out to avoid running onto the heels of ARMSTRONG (M Yeni).
At approximately the 300m THE LITIGATOR (*N Klink), which had come to the end of its run, had to steady when awkwardly placed between KINGS CUP (G Lerena) and FACT (M van Rensburg), which shifted out off the heels of HORSEPLAY (M Yeni) to continue its run.
PINK (C Zackey) was tightened for galloping room at the 300m and thereafter had to switch in to continue its run.
SEE ME RUN (*D Schwarz) was baulked for a clear run from the 150m.
The Sporting Post will be approaching the racing operator and the NHA for comment.
‹ Previous
Fresh New Bets For Royal Ascot