Trainer Alan Greeff marched relentlessly towards yet another East Cape Championship title as he saddled six of the eight winners on the Fairview card on a memorable Monday at the final East Cape meeting of the 2018/19 season.
Five of the Greeff winners were ridden by Greg Cheyne, and the combination showed their dominance as their win strike-rate averages at 26%.
Greeff has saddled 177 winners – versus 148 last term. Wayne Agrella rode the sixth Greeff winner.
In the race for the SA jockey title, Muzi Yeni chipped away at defending champion Lyle Hewiston's lead to shrink the deficit to just two winners with two days remaining.
Muzi won the last on Bushy Park for Duncan McKenzie.
With weather forecasters varying in their predictions as to the volumes of rain, the Cape Town area was expecting showers on Monday evening and on Tuesday morning. This could have an impact on the Kenilworth meeting, with Hewitson being favoured by some better quality rides.
‹ Previous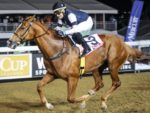 Crawford's Tough Season Ends On A High