The catalogue for the BSA 2019 National 2YO Sale is now live online.
The hard copy of the catalogue is also now available.
Traditionally, one of the South Africa's best value for money sales, and most prolific producers of high class racehorses, the National 2YO Sale has produced a remarkable array of stars over the years, with past graduates including such notable Gr1 winners as Asylum Seeker, Bela-Bela, Dane Julia, Irridescence, Jackson, J J The Jet Plane, Noah From Goa, River Jetez, and The Apache.
This year's sale will see a full-brother to the multiple G1 winning Equus Champion Bela-Bela go through the ring in the form of Lot 267.
The 2018 National 2YO Sale has already unveiled some top-class prospects – including Saturday's Gr2 Zulu Kingdom Explorer Golden Slipper winner Cockney Pride (Querari –Lovely Jubbly) and that exciting filly has a full-sister on offer in the form of Jubble Bubble (Lot 228).
Impressive recent debut winner Self Assured was another buy from last year's 2YO Sale, as was recent Irridescence Stakes runner up Driving Miss Daisy.
This year's sale is set to take place at the TBA complex in Germiston on August 15-16th, with each day of trading set to get underway at 11:00 sharp.
Some outstanding sires have lots on the 2YO Sale this year, with this group headed by Captain Al, Dynasty, Gimmethegreenlight, Querari, Silvano, Trippi and Var.
Stallions represented by first crop two-year-olds include Act Of War, Coup De Grace, Flying The Flag, Futura, Global View, Legislate, and Willow Magic.
‹ Previous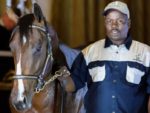 July Week Sale Breaks Records