Entry forms for the 2019 CTS Ready To Run Sale and the 2020 Cape Premier Yearling Sale are available for downloading from the CTS website.

The popular Ready To Run Sale will take place on Friday, 22 November at Durbanville Racecourse, with the R2R Gallops preceding the event on Thursday, 21 November.
Download 2019 R2R Entry Form here
Download 2020 CPYS Entry Form here
As announced, the prestigious Cape Premier Yearling Sale (CPYS) will be held a week after the Queen's Plate on 16 January 2020, when a strong local and international presence of buyers is expected.
The deadline for entries is Monday 26 August
For more information, contact Kirsty at CTS: Tel: 021 873 0734, Cell: 064 628 0443, Fax: 086 663 7084, E-mail: [email protected]
‹ Previous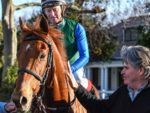 More Dazzle From The Duke