A funeral service for the late Duncan Alexander, patriarch of the Alexander racing family, who died in Johannesburg on Sunday, aged 87, will be held on Thursday at 11h00 at Our Lady Of Cedars Memorial Church, Woodmead, Johannesburg.
Despite the setbacks with his health, Alexander was a regular weekend racegoer and firm supporters of his son Gary's racing stable.
Retired jockey Garth Puller told the Sporting Post that Duncan was an old-fashioned true gentleman of the game in the mould of a Stanley Amos.
"I was very young in 1970 and rode Snow Fun in the build-up to Duncan winning the Met on him. I recall the respect and admiration I felt for Mr Alexander. He was a top, top rider. I am very sad to learn of his passing."
Turf Talk reports that Duncan Alexander, who grew up in Brighton, UK was always destined for a career in racing and he said in a 2006 interview:
"I don't come from a racing family. But my interest grew daily as I read about the exploits of people like (Sir) Gordon Richards. I started slipping into the racetracks at Brighton and Gatwick as a teenager. Kids weren't allowed on the tracks in those days, but where there was a will there was a way. I became a regular at the races and, being so small, I set my sights on becoming a jockey. I was never going to be anything else!''
He had to wait a few years before his dream could come true. A doctor advised his father that his mother, of ill health, would have a better quality of life in sunny South Africa. The Alexander family immigrated to our shores in 1947.  His family wanted him to study, to follow an academic career, but young Duncan had his way and his dad took him to the busy training establishment at Newmarket in Alberton, where in 1947 he was accepted as an apprentice to trainer Henry Eatwell, one of the leading trainers at the time whose stable riders were Bert Abercrombie, Charlie Barends and Johnny McCreedy, all masters of their trade.
In his era Alexander won the old Gilbeys Stakes three times on Magic Mirror, Zealous and Damask respectively.
He set an extraordinary record by winning five Durban Merchants Sprints with five successive rides on Nervous Tension (1962), Even Beat (1964), William Penn (1965), Prize Bell (1966) and Glengyle (1967).
"It could so easily have been six out of six," he said, "but I lost my 1963 ride on Jolly Drummer because I was injured in the race preceding the Merchants!
After a lean spell in 1965, Alexander bounced back. Trainer 'Cookie' Amos needed a lightweight for his filly Renounce in the 1966 Metropolitan Handicap (J&B Met). Alexander was his first choice. Cookie's brother Stanley was on the favourite, and Alexander told:
"I'd never ridden Renounce before, but I studied some footage of her previous runs. I remember saying to Marge, 'I can win this!'  On the big day Mr Amos told me sit patiently on her, off the pace, and I followed his instructions. We found a clear run in the Kenilworth straight and she accelerated smartly to win from Arctic Venture with Java Head back in third."
Alexander was on a high and the year 1966 brought more good fortunes. He notched his second Summer Handicap for George Azzie on the bottom-weight Caradoc, defeating Doctor John and Peppy.  In 1967 he won the prestigious Gold Cup for trainer Bert Sage aboard Cuff Link, followed by his second Met win in 1970, riding trainer Jackie Bell's Snow Fun.
Duncan retired following injury in 1974 and trained successfully until 1982 before handing over to his son, Gary, assisting the stable for several years before going into official retirement.
Duncan Alexander was a soft-spoken, friendly and approachable man who had time and advice for everyone he met. He was a true legend in the South African racing industry and an individual all of us in racing were proud and privileged to have met.
‹ Previous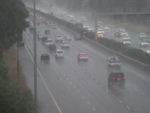 Kenilworth Today