On 20 June 2019, Bjorn Nielsen's homebred Stradivarius galloped to victory in the Ascot Gold Cup.
The sun was out, it was Frankie Dettori's fourth win on the card, it was even money favourite Stradivarius' second consecutive Gold Cup victory and the Ascot crowd rightly lifted the grandstand roof.
But in addition to that, in addition to the wonderful horse, the iconic jockey, the masterful training feat and even the sure knowledge that you were witnessing something truly special, was the affirmation of one of racing's greatest pieces of magic – that horses really do change lives.
Making of a legend
Bjorn Nielsen was born in Cape Town to a Danish father and South African mother and grew up in the suburb of Pinelands.  A competitive tennis player, he collected cuttings of his tournament results from the sports pages of the local newspapers and became intrigued by the photographs and stories of horse racing that dominated the headlines at the time.  It was the era of the mighty Syd 'The Bear' Laird and his white-faced colt that would take South Africa by storm.
With his easily recognizable white blaze, come-from-behind-tactics and ferocious stretch runs, Sea Cottage won the hearts and minds of racing fans to such an extent that he is still regarded today as the greatest horse to set foot on our tracks.
In addition to his 20 wins from 24 lifetime starts, Champion 2yo and 3yo titles and dual Horse Of The Year accolades, Sea Cottage crashed through the barriers of sports pages and into the mainstream when he was shot three weeks before the Durban July Handicap of 1966.
Approaching that year's race with 11 wins from 12 starts, Sea Cottage was nothing short of a racing certainty.  Bookmaker Sonny Chislett stood to lose his shirt if the horse won and in conjunction with Monaco Club proprietor Monty Labuschagne, hatched a plan to 'stop' the colt.  Local henchman Johnny Nel was hired to dispatch the horse and on the morning of 10 June 1966, Nel took aim from a concrete shelter on the Blue Lagoon bridge, hitting Sea Cottage in the hindquarter.  With the bullet lodged beyond the reach of veterinary instruments, there was not much that could be done, but the horse made such a remarkable recovery, that he resumed training and took his place in the July field three weeks later.  He put up a courageous run but would be badly hampered at the two furlong mark, finishing an unlucky 4th.
When Sea Cottage returned to the scene of his defeat at Greyville as a 4yo on 1 July 1967, he was set to concede his nearest market rival, the year younger Jollify, nearly two stone.  Bjorn still recalls the race.  "There was no TV in those days because of apartheid, censorship etc. so I listened to the commentary live on radio.  It was pretty emotional – Jollify had this big lead and everybody's favourite horse Sea Cottage kind of ran him down and they dead heated.  It's something that stuck in my mind forever."
And with that, the course of his life was changed and it is fitting that the passion born from one racing legend, is now writing the story of another.  Even the acquisition of his racing colours has a whiff of magic about it.
Bjorn elaborates, "In 1990 a guy advertised a 'rare set of racing silks for sale' without stating what they were.  Amazingly I had in mind that if I could ever pick a set of racing colours my choice would be 'black, yellow cap'.  I called him up and asked the owner what the colours were and he said 'black, yellow cap'.  I nearly fell out of my chair.  The guy had had them in his family for a hundred years. As you know, getting plain colours is impossible today because all the plain ones were registered in the early years of thoroughbred racing.  So I've had them for about 30 years and they've been very lucky for me."
Assessor was an early purchase that carried the black and yellow to victory in the Prix Royal-Oak, the Yorkshire and Doncaster Cups and the 1993 Prix du Cadran.  Masked Marvel, purchased at Deauville by Jeremy Brummitt, provided his introduction to John Gosden and a St Leger trophy to boot.
Bjorn extended his interests to breeding with the acquisition of My Branch at the Tattersalls December Sale in 2002 and now stands a number of broodmares with the Lloyd Webbers at their Watership Down and Kiltinan Castle Studs.  And in 2014, along came a chestnut colt with a white blaze and four white legs.  By Sea The Stars out of the Bering mare Private Life, Stradivarius was bred to be an Epsom Derby prospect, but has taken Bjorn on an entirely different journey.
Stradivarius
The story nearly took a wrong turn when the chocolate box chestnut was offered on the Tattersalls sale in October 2015.  Happily he failed to reach his reserve and went into the hands of John Gosden and Bjorn's yellow and black silks instead and the rest is fast becoming the stuff of racing legend.
Lightly raced at 2, it was Stradivarius' first start at 3 that gave the first inkling he might be something special, when he won by 6 lengths.  Carrying 9st 7lbs, Stradivarius was beaten a neck next time out at Chester and then stepped up to win the Queen's Vase at Ascot.  "When I really knew was when he won the Goodwood Cup from Big Orange.  It's an extremely rare feat for a 3yo and we beat him fairly comfortably.  I thought to myself, to beat a Gold Cup winner, I might just have a special stayer on my hands.  That was the day, really, the first time I knew."
The 15'3hh Stradivarius, often dwarfed by his rivals on the track, is affectionately known as 'Mighty Mouse' at home.  However, his determined running style is reminiscent of Jim Murray's description of Northern Dancer: "He's so little, a cat would chase him. But he's so plucky there's barely room in him for his heart. His legs are barely long enough to keep his tail off the ground. He probably takes a hundred more strides than anyone else, but he's harder to pass than a third martini."
Trojans Of The Turf
In 2018, Weatherbys launched the inaugural Weatherbys Hamilton Stayers' Million to celebrate as well as promote the dangerously neglected staying ranks.  The initiative offered a million pound bonus to any horse to win one of four prep races in May, followed by the Gold Cup at Royal Ascot in June, The Qatar Goodwood Cup in July and the Weatherbys Hamilton Lonsdale Cup three and a half weeks later.
While a gallant gesture, no horse had ever won this combination of races in a lifetime, let alone a single year, but things only seem impossible until they are done.  As if on cue, to quote from Thoroughbred Racing Commentary's Chris Smith, along came Stradivarius.
He won the 1 ¾ mile Yorkshire Cup in May.  He won the Ascot Gold Cup on 21 June.  On 31 July, he won the Goodwood Cup by half a length.  Stradivarius was partnered by Frankie Dettori when he started the 4/11 favourite for the Lonsdale Cup on 24 August, winning the million pound bonus into the bargain.
Harder to pass than a third martini indeed.
Just for good measure, Stradivarius added the Group 2 British Champions Long Distance Cup at Ascot on 20 October, becoming only the second horse to win five QIPCO British Champions Series in the space of one season. The first horse to do it?  Frankel in 2012.  To crown his season, Stradivarius was honoured with the Champion Stayer title at the 2018 Cartier Awards.
The feat is all the more remarkable for having been achieved by a small owner-breeder based on shrewd purchases and well researched matings – "and luck", adds Bjorn quickly.  "How it is that I own him, not one of the big yards or owning entities is miraculous.  I'm incredibly fortunate to have come up with a horse like him.  As much as one puts in in terms of research, using the best trainer and the best jockey, the largest component is luck – it really is – and you need helluva large slice."
Second verse, same as the first
Without the commercial pressures that accompany a Derby winner, the team – and racing fans – are afforded the happy luxury of being able to enjoy Stradivarius' career for a bit longer.
"It would be easy to say we're scared to get him beat now, so let's pack him off to stud, but these horses come along once in a lifetime and I would like to climb into my wooden box one day and remember all the fun I had along the way with him," says Bjorn.  And with Weatherbys renewing their bonus for 2019, there is a lot of fun still to be had.  The game little horse has already collected the Yorkshire Cup, and become the first horse since Yeats to win back-to-back renewals of the Gold Cup.
Did he ever expect those newspaper clippings might lead to the Ascot winner's enclosure? "Quite honestly, if it hadn't been for Sea Cottage, none of this would have happened," says Bjorn.  "From a £1 bet to a £5 bet, to owning a horse to breeding my own – it all started with Sea Cottage.  Thank you, Cape Argus!"
Pay it forward
The thread that started in Cape Town came full circle when Bjorn holidayed in South Africa earlier this year.  "I always tell people, if South Africa didn't have any problems, the whole world would live in Cape Town – it's my favourite spot in the world.  I came down for a month in January and thought this time I will go racing, because I'd never been before.  Tom Goff made the introduction to Gaynor (Rupert) and they very kindly invited me to the L'Ormarins Queen's Plate and then to the Met.  I got introduced to Jono Snaith at the races and they really looked after me."
Having gone with the innocent intention just to go racing and have some fun, Bjorn found himself at the Cape Premier Yearling Sale and purchased a Var and a What A Winter filly.  In partnership with Nic Jonsson, he purchased a number of more classic types at the April National Yearling Sale, all being consigned to the Snaiths.  "The first two are more precocious types that might give me an interest for next January / February, while the rest will hopefully be running in the back end of their 2yo or early 3yo campaigns," he explains.
But for the moment, he has more pressing things on his mind.  Are they going for the bonus again?  "We will go for the Goodwood Cup and if all stays well with him that would be the plan.  Touch wood, he has been a horse that has been so consistent, always sitting there travelling well enough, he picks off those horses in front of him, no  matter what the level.  He just doesn't know how to lose.  There are six weeks between Ascot and Goodwood.  The only tight race for him really, if he winds up going after the bonus, is the 4th leg which is three weeks after Goodwood and carries a 3lbs penalty.  Three pounds doesn't sound a lot, but at that distance, it's 3 lengths," he notes seriously.
All being well, Stradivarius will take his place in the Goodwood Cup on Tuesday, 30 July before lining up for the final leg of the challenge, the Lonsdale Cup at York, on 23 August.
Who knows what lives he might change along the way.
‹ Previous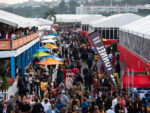 July – Hollywoodbets Pledge To Customers