It's the biggest week in South African horseracing every year.
The whole country is talking about the Vodacom Durban July, the yearling sale is under way and the big race panel discussions this evening will see the experts entertaining and informing a hungry public keen to share in the action and glory.
The Hollywoodbets-Gold Circle partnership announcement after the official July gallops last Thursday gave the 123rd renewal of Africa's Greatest Racing Event a massive psychological boost after yet another tough season of more negative than positive news for the sport of kings.
While time will be the acid test, Saturday will hopefully mark the dawn of new hope and a concerted drive from all players to bury differences and get behind an upliftment of the sport. It's a damn fine occasion to draw the line in the sand and move on.
A man who believes that the future is as bright as we choose it to be is one of South Africa's greatest jockeys of recent years, Andrew Fortune
Andrew never won the Durban July and his closest was a third cheque on Free My Heart – Dean Kannemeyer's first runner for his own account, in the year 2000.That's when El Picha became only the fourth horse – and the second in a half century – to win the race back to back.
It was a dramatic tight finish up front – after some deliberation and after they had spent what felt like a lifetime poring over the official photograph of the finish it was decided that Geoff Woodruff's hardy Argentinian El Picha had just clung on from a fast finishing Young Rake.
"I was there just behind them in third in what was to be my closest to actually winning the big race. But I suppose that doesn't really stop me from expressing an opinion as to how I see Saturday's race unfolding," laughs 'The Candyman' as he chats to the Sporting Post at the KZN Yearling Sale at the Sibaya Casino, where his astute eye for value is assisting his trainer wife Ashley with the purchase of their future stars.
We congratulated him about the great strides being made in Hong Kong by his son Aldo – a treble at Happy Valley on Wednesday – and asked him about the inevitable poser of the pace on Saturday.
"Thank you. Aldo is making us proud. He has found his confidence and he can only improve further. Back to the July – you know what they say – it's a Gr1, these are top horses, there is always an enthusiasm and anxiety amongst the jockeys and inevitably – we hope – a pace. History shows it's not guaranteed though. Look what happened in 2014 – there were a host of hard-luck stories, besides the drama of the objection crowning it all. But Justin(Snaith) has four in the race on Saturday and he has said he would keep them honest. But let's face it – it's the July – there is a buzz and atmosphere – and there are so many factors at play – from luck at the jump, to luck in running and split second decisions. One thing is guaranteed – they all want it!"
Now that he is on a roll, Andrew says he can't really fancy Do It Again achieving the double.
"He is carrying 6kgs more than last year and this is his second run after a rest. Those are two serious ticks in the 'mmm' box, I feel. I personally fancy the lightly waited 3yo, Barahin. Mike de Kock has brought him along in a perfect prep. He is fit, has the edge at the weights, Muzi Yeni has the BMT and he is riding at the top his game. It should be a cracking race and a great day – and we are proud to have Invidia taking his chances in the Golden Horseshoe," he said.
The July is off at 16h20. Watch it live on Tellytrack, Dstv239 or on Supersport.
Read more news here – click on the image below
‹ Previous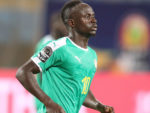 AFCON 2019 Round of 16