The Vodacom Durban July betting pressure this week has been  spread around every horse, apart from the 'big 4' – which is quite predicable with the bigger price values, as July fever takes over.
That was the word from Hollywoodbets Patrick Bradley ahead of South Africa's great betting rush of the season – the Gr1 Vodacom Durban July to be run at 16h20 on Saturday at Hollywoodbets Greyville.
"The most pressure has been for Eyes Wide Open ( in to 12/1 ) and shrewd money for Lady In Black at 50/1 – also lots of local KZN support for Roy Had Enough at 66/1."
Patrick said that Do It Again has been static at 4/1 as have Rainbow Bridge and Barahin at 6/1 each.
"Hawwaam is  confusing as he has gone a bit cold in the market and has drifted out to 2/1. Most experts thought he would shorten after the good draw and my feeling is that 2/1 or thereabouts is the peak price and the pressure will come back for him on Friday."
Hollywoodbets is South Africa's premier betting brand, offering the public an upmarket environment where punters can bet in comfort and style.
Over the years they have built up an extensive retail presence in KwaZulu-Natal, Gauteng, the Western Cape, the Eastern Cape, Limpopo and Mpumalanga. Never ones to stagnate, they also introduced online, telephonic and cellphone betting allowing punters to place their bets wherever they go.
Hollywoodbets is currently the biggest bookmaker on South African soil and employ over 5 000 staff members.
Their services consist of a wide range of betting opportunities and include exciting products with a quicker turn-around like Betgames and Lucky Numbers. They also offer betting on all major sports including horse racing, soccer, cricket, rugby, golf, tennis, American football, basketball, darts etc.
Hollywoodbets also sponsors over 140 sports teams and 134 charities nationwide per annum as part of their My Community Programme.
‹ Previous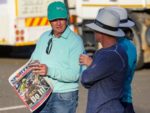 What A Week!