The silo's of fractured power that make up the South African horseracing industry have gone eerily quiet in a week that has seen our powerhouse racing operator facing a sand in the face reality check of catastrophic proportions.
In what should have been a pat-on-the-back-week after the dizzy highs of Africa's Greatest Racing event, Friday 12 July 2019 will go down as the day that the chickens finally came home to roost and the sport of kings in South Africa reached the crossroads – with red faces and the inevitable finger pointing and excuses.
Punter's levies, VAT, the Public Protector, the bookmaker brawl, the economy – but Phumelela's Friday Of Fear was really a multi-faceted culmination of a mudstorm.
An insidious creep of years of a shift of focus and poor management, with horseracing fading off the pace to run a dirty third to the priorities of power and shareholders.
While they belong to recent history, men like Brian Mehl, Jim Tennant and David Attenborough had their foundations torn to shreds by Rian du Plessis.
And on Du Plessis' successor's 63rd birthday on Wednesday, the share price hit a new low of R2,50 with a trajectory that frankly doesn't speak of likely Moon landings in the next fifty years.
But John Stuart can't be blamed. He is the deer in the headlights that inherited the fake family silver.
Where to now? The private wealth that props up the sport will hopefully come to the rescue.
Heads must roll.
A leader with vision, competency and a clean blank sheet is desperately needed to restructure the model and unify the industry.
And destroy those bloody silo's, as a start.
The new season looms, the 2yo Sale lies ahead and stakeholders are crying out for reassurances.
We have tried to get some answers. For now, there are literally none.
Read more in the SP Digest – please click on the image below:

‹ Previous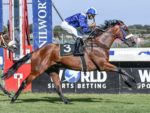 Season Ends On A High