The National Horseracing Authority confirms that at an Inquiry held in Cape Town on Friday 28 June 2019, Jockey Corne Orffer was charged with a contravention of Rule 62.2.3.
As the rider of KINGSTON ROCK, he failed to ride his mount out to the end of the race to the satisfaction of the Stewards, thereby prejudicing his chances of obtaining 3rd place in Race 3 at Kenilworth Racecourse on 18 May 2019.
Mr Orffer pleaded guilty to the charge.
The Inquiry Board found Mr Orffer guilty and imposed a penalty of a suspension from riding in races for a period of 14 days.
Jockey C Orffer has the Right of Appeal against the penalty imposed.
‹ Previous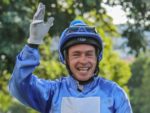 Van Rensburg Will Be Fit For July