The National Horseracing Authority reports that the organisation is aware of various media reports regarding veterinary incidents that occurred at the Vodacom Durban July race meeting on Saturday, 6 July 2019.



To set the record straight CAVIVAR received veterinary treatment immediately following Race 5, the Zulu Kingdom Explorer Golden Slipper (Grade 2), in which she finished in fourth position – she did not collapse during the race, but suffered from severe post-race distress. The Trainer of this horse gave credit to the veterinary treatment that was provided immediately following the race.
HAWWAAM was withdrawn immediately prior to the start of the Vodacom Durban July due to an unfortunate incident which does occur from time to time when one is dealing with highly strung thoroughbred animals.  A comment allegedly emanating from an anonymous trainer concerning the standard of the Handling Staff in Durban has absolutely NO merit and is totally baseless.
The NHA Veterinary Surgeon, Dr Roehann Sutherland made the extremely difficult decision to withdraw HAWWAAM after completing an inspection of the colt following the incident. The emotions and the body language displayed by this esteemed professional, speak volumes for his empathy for the horse and his thorough UNDERSTANDING of the effect his decision would have on all the stakeholders and interested parties. As much as the NHA  sympathises with the Operators and the connections of HAWWAAM, we are also proud to have such a person in our employ.
Horse welfare is top priority and this weekend's incidents clearly highlight the fact that the horse comes first.
Press release issued by NHA on Monday 8 July 2019
‹ Previous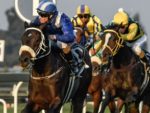 Hawwaam Suspended