The various national championships have become clearer over the last couple of weeks and it will be a surprise if there is an upheaval in any of the major titles.
In the jockeys championship both Lyle Hewitson and his nearest rival Muzi Yeni rode at every meeting in the past week. Hewitson accumulated eleven winners, including a treble at Fairview on Friday, while Yeni only rode five winners.
Anton Marcus only had four rides during the week and had one winner. Hewitson is consequently on 211 winners, 11 clear of Yeni on 200 and 28 clear of Marcus, who is on 183.
In the trainer's champions Sean Tarry increased his lead during the week.
The log was last updated at 16h38 on Saturday and Tarry was on R24,830,200, Justin Snaith was on R22,579,463 and Mike de Kock was on R22,354,563.
Snaith has to make up a leeway of R2,250,737 according to those figures and De Kock has to make up a leeway of R2,475,637.
There is only one big meeting left, Gold Cup day, where there are ten feature races. Snaith has eleven horses entered in the features on that day and in the unlikely event they score a perfect return they will accumulate R2,568,750.
De Kock has twelve entries, although effectively only eleven as Frosted Gold is entered in both the Gr1 Premier's Champion Stakes and the Gr1 Mercury Sprint.
His perfect return which would have to include Frosted Gold running in the Mercury and finishing in the top two would net him R3,198,750.
So it is possible for either De Kock or Snaith to catch Tarry but unlikely especially considering Tarry has 23 entries in the features on the day and is unlikely to go home empty handed. 
In the apprentice championship Luke Ferraris had two winners during the week to his nearest rival Dennis Schwarz's one. Ferraris's 79 winners are 18 clear of Schwarz's 61.
The Breeders championship has been wrapped up by the Mary Slack and Jessica Jell-owned Wilgerbosdrift and Mauritzfontein Stud breeding operation.
Mesdames Slack and Jell are Harry and Bridget Oppenheimer's daughter and granddaughter respectively and by all accounts this will be the first time the Oppenheimer family have won the championship.
It is long overdue as they have done an enormous amount for South African racing.
Maine Chance Farm's stallion Silvano will be the champion sire for the fourth time.
Seven-times national champion sire Jet Master will be champion damsire for the first time.
The important Freshman sire title is wide open. Captain Of All (Captain Al) has had 12 winners of 14 races for R1,635,525 in stakes, Vercingetorix (Silvano) has had eleven winners of 17 races for R1,376,425 in stakes and Soft Falling Rain has had 12 winners of 14 races for R1,130,125 in stakes. The title is decided by stakes money.
Chris van Niekerk is almost R3 million clear of Sheikh Hamdan Bin Rashid Al Maktoum in the owners championships.
Do It Again is likely to be crowned Equus Horse Of The Year, having won three Gr1's in the Vodacom Durban July, the Rising Sun Gold Challenge and the L'Ormarins Queen's Plate, as well as the Gr2 Green Point Stakes. In his only other run he finished second in the Gr1 Sun Met.
However, he has not earned the most stakes for the season. Hawwaam, who also won three Gr1's, has earned R5,628,125 to Do It Again's R5,102,500.
www.goldcircle.co.za
‹ Previous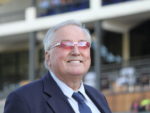 Tellytrack: Molly No More