The first-timer and rested horses comments listing for Saturday'sTurffontein meeting saw only the Ashley Fortune yard providing information to Joe Public.
The comments, kindly provided by the Phumelela Publishing Department, should be a valuable tool for the punter and assist in cases of first-timer ability and readiness, and as indicators of fitness where horses are rested.
A Phumelela spokesman told the Sporting Post that when trainers enter their horses they have the option to add a comment. It is not a condition.
The meeting had the added attraction of a R500 000 carryover injection into the Pick 6 pool, which was expected to reach R2 million.
The false rail was set at 4m on the back straight to 7m on the bend, with a 7m spur at 500m mark.
These are the comments for the Turffontein meeting:
1 12:15 – MARK MASTER'S MAIDEN JUVENILE PLATE
1 BELLAGIO KING A B Fortune: Nice horse, looking for further
2 BRAVE DEPUTY G M Alexander: No comment given
3 GOLDEN TUNE D Nieuwenhuizen: No comment given
6 KOOL BAIKAL R R Sage: No comment given
8 MASTER TOBE J J van Vuuren: No comment given
9 OPENING GAMBIT S J Gray: No comment given
4 14:00 – LAD'S BROKERS PERSONNEL RECRUITMENT MAIDEN PLATE
1 MAROON BELLS J A Soma: No comment given
5 14:35 – MARK MASTER'S FM 74 HANDICAP (F & M)
1 JAMESON GIRL C Dawson: No comment given
7 15:45 – TAYLOR-ANN MR 73 HANDICAP
11 PEACE CALL ME S J Gray: No comment given
In media reports recently, trainer Joey Soma urged his fellow-trainers to help punters by providing sensible pre-race information.
Soma said: "I have not been giving comments myself, but I decided recently to give punters access to as much info as possible. Punters are getting bored, they are losing interest and we need to do everything we can to keep them in the game."
Soma also made the valid point that trainers are wary of being proved wrong, or putting their owners in the middle.
"But there is a way of commenting that will keep everyone happy. We see too many 'will need the run' horses that fly up to win and nothing annoys a punter more than thinking he has been lied to. Worse still is 'no comment', of which I was guilty of but I look at things in a different way now."
Soma concluded: "The days of the big coup are gone. The market establishes the runners in race fairly, reflects what's going on. You can maybe get R10,000 of a horse, or a bit more, but the big money is no longer there to pull off massive betting coups. We must look after the punters we have left, give them the info to win. It will benefit all of us."
Somebody needs to take the lead.
‹ Previous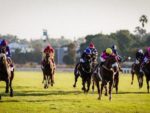 SA Jocks Head To Zim Today