Planning your matings for this coming season? Interested in Sires at stud in South Africa?
You need the only directory of Sires in SA!
The essential reading breeders handbook, Sires 2019, is now available.
It's packed with information, including extended pedigrees, evaluations of pedigrees, statistics and conformation pics.
Contact Kiki for your copy (R290) on [email protected] or mobile 082 878 2231.
‹ Previous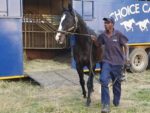 Mogok Set To Enjoy Retirement