After being asked by several people at Greyville on Vodacom Durban July day as to what was going on between Tellytrack and myself, I wish to clarify the situation.
Award-winning racing journalist Dave Molllett writes in the Sporting Post Mailbag that at the end of June, he received an e-mail from Tellytrack's, Wesley Lloyd, informing him that his UK tipping contract was not being renewed. He was given 30 days notice.
He writes further:
After 17 years of service with Tellytrack, one might have thought such a communication would come from new Tellytrack head, Colleen Goodman. No, it was sent by one of her lieutenants.
As a contractor, I don't believe I have a legal case against Phumelela, but I hope to find another outlet for my UK tips soon.
‹ Previous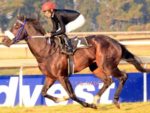 De Kock's Champions Cup Power Punch