The twelve-strike crop penalty  framework continues to puzzle. We have seen jockeys get R750, R2500 – even a week.
Now an offender gets a warning – because he was out of the country when the rule was introduced.

Jockey Neo Qaule rode his first winner on 12 February 2010 at Kenilworth.
He has only had two rides this season and, in fairness, appears to have been absent from our shores for some time.
On 13 July at Turffontein Qaule signed an Admission of Guilt for a contravention of Rule 58.10.2 (read with Guideline M on the use of the crop) in that he hit the horse Deal Me In more than 12 times in the entire race.
A Warning was imposed.
The official report advises that when assessing this penalty, the Board took into consideration that Jockey Qaule had just returned from a stint overseas and was not in the country when the other riders were advised of the crop rule changes.
While the discretion and sympathetic approach is commendable, they are not famous for it and where does the NHA draw the line?
The crop debate has been a well ventilated and lively one since it was introduced in May. It's not an obscure one line rule on page 786 of the regulation book.
Surely the onus is on a professional to acquaint himself with the rules?
And what about the onus on the NHA? They knew Qaule had been away, why didn't they brief him as a precaution? Maybe the official who signed off Quale's clearance certificate should be fined.
A lack of knowledge is a dangerous precedent for an excuse – it surely can't be a defence.
They should have fined Qaule and possibly given him the opportunity to present his defence on appeal against the penalty. Rather than an admission of guilt with a rap over the knuckles.
‹ Previous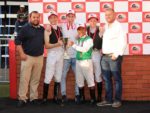 Hawks Hat-Trick On Cards