The Cape racing programme is without a slot on a very quiet weekend on the national racing programme.
The next local racemeeting is scheduled for Kenilworth on 24 August.

The meeting scheduled for Kenilworth on 30 July was abandoned due to a weather affected surface and a question has been raised as to when it will be run.
Phumelela Racing Executive Patrick Davis and WCRRA Chairman Jonathan Snaith have explained the situation after the Sporting Post received the following note from a Cape trainer:
" We are not happy as meeting abandoned last week and no race meeting coming up on the 17th! This is our livelihood and we are complaining and clients are complaining as we nominate to run our horses! We don't nominate for the sake of it, and I think something needs to be said and done!"

Snaith (pictured above) explained that the stakes from any abandoned meeting are not lost as they are held in reserve.
"Mostly these funds are used to split races on a card – so a full maiden is split and the R80k is taken from this reserve / slush fund. What the trainer needs to understand is that we do not lose these stakes. They are held in reserve for Kenilworth Racing."
Patrick Davis said that the National policy was available to the public on the SA Horseracing website.
"The bottom line is we don't postpone meetings – we abandon them if the weather intervenes. The exceptions to this rule are well covered in the policy. The reason being that the annual fixture list is set up to optimize betting turnover in the interests of everybody involved in the sport. To add or postpone a meeting alongside another scheduled meeting is quite frankly commercial suicide, as your costs to stage the additional meeting far outweigh any financial benefits," he said.
He added that should a region's racing however be 'severely disrupted' by the weather, the Racing Operator may decide to add a meeting in the interests of stakeholders – even if it doesn't make commercial sense to the operator.
"In this instance, the loss of a single meeting would not be construed as severely disrupting the race programme in the region, which is why the Kenilworth meeting lost last week has not been replaced. As the Racing Operator contracted to manage racing in the Western Cape, we as Phumelela have to make sensible commercial decisions, especially at a time when the industry is under such financial pressure. As Jonathan points out, if there is a specific demand to split a race due to opportunities lost, this will be considered in the interests of all stakeholders"
‹ Previous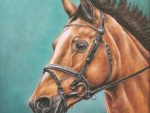 Horses In Leather