Avontuur Estate, the home of highly rated sires Var and Oratorio, has announced a sponsorship deal with newly crowned SA champion apprentice jockey Luke Ferraris, who is one of our up-and-coming stars.
"He joins long-time Avontuur-sponsored jockey MJ Byleveld and will be sporting the various Avontuur brands on race tracks country-wide from mid-August," says Avontuur GM Pippa Mickleburgh.
"We've been incredibly lucky with our sponsored jockeys over the years. Starting off with MJ, Anthony Delpech and Greg Cheyne a decade ago,  followed by Callan Murray and most recently double SA Champ Lyle Hewitson, we have backed winners all the way.  People always joke that I seem to be able to see into the future as our jockeys have always performed incredibly well, which has obviously had positive spin-offs for our brand too," Pippa explains.
Luke hails from a family with a long and illustrious history in South African racing.  His grandfather Ormond Ferraris was the doyen of the Highveld racing scene until his recent retirement. It was a proud moment when Luke chalked up two winners for his grandfather at the Vaal on Tuesday, 24 April 2018.
His father David, has been based in Hong Kong as a trainer since the 2003/04 season, where he found early success with six-time Gr1 winner Vengeance Of Rain and has been plying his trade there ever since.
On an historic Sunday -10 June 2018 – three generations of the Ferraris family graced the Scottsville winner's enclosure in their separate capacities on the same day. An iconic moment for this blue-blood racing dynasty.
Looking at Luke's family background, it seems inevitable that he would end up in the industry.
"I started having riding lessons in Hong Kong when I was three or four. Whenever the instructors gave me a break, I'd try and pull my irons up. When I was 5, we went on holiday to Zimbali and I remember galloping up the beach, not one bit of fear. That's kind of when I knew it was what I really wanted to do,"he says.
Luke joined the SA Jockey Academy in 2017 and has loved the training, camaraderie and opportunities which have been coming his way ever since then.
He rode his career first Gr1 winner on Miss Florida in the Allan Robertson Championship in May this year.
"We have everything in place to launch the sponsorship and look forward to seeing Luke representing Avontuur Estate.  From our side we hope to play a role in building and sustaining his career too," Pippa concluded.
‹ Previous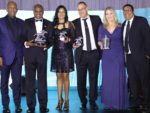 It's Snaith's Smasher – Again!