It will be a long time before the bookmakers recall the name Al Bragga without a warm glow spreading through their systems and in the first at Kenilworth on Saturday a massive gamble on the newcomer went spectacularly wrong.
Michael Clower writes that Mike Stewart, who trains Red Rum-style on the beach at Noordhoek, may have a Summer Cup to his name but he operates at bargain basement level and scores with well-backed first timers about as often as Justin Snaith has a winner starting at 30-1.
The money poured on Andre Hauptfleisch's homebred as if there was no tomorrow and the Captain Al colt's price tumbled from 15-2 to 19-10 favourite. "It's not my money but I don't think he will get beaten," said the trainer.
Yet the favourite lost ground at the start and never got into it, finishing with only one behind him and over 20 lengths off the winner Psychedelic. "He had shown plenty at home but Donovan Dillon said it was the ground and that the horse hated every minute of it," said a mystified and bitterly disappointed Stewart. "I have worked Al Bragga in the wet, but in ground that was possibly not as wet as it is here."
It was Kate Meiring and Juan Batt who solved the mystery. The course vets examined the colt on the instructions of the stipes and found him to be lame on his off-fore.
The stipes had a busy time and they also quizzed Snaith about the dramatic improvement of the 30-1 winner.
"He showed a lot of pace in his first two runs but at the end he died," the trainer reported. "Now, with gelding and a little bit more fitness, he managed to finish the race – but I was surprised."
www.goldcircle.co.za
‹ Previous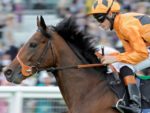 Cliffs' Work Of Art