Glen Kotzen is keeping an open mind about this season's campaign for his 2018 Cape Derby winner Eyes Wide Open, winner of the WSB 1900 and fourth in the Vodacom Durban July.
The Woodhill trainer told Michael Clower: "I'm not yet sure what he will do but we are giving him a nice long break and then we will see how we go."
The Dynasty five-year-old managed only seventh of nine on his final start in the WSB Champions Cup but Kotzen doesn't believe that this should be written off as just the effects of a tough campaign, reasoning:
"He was out at the weights whereas in the July he was handicapped to win but again they went too damn slow. Ideally I would love to have sent him to stud but there are too many horses doing that this time round so we are racing him for a further year."
Stud is no longer an option for R6 million buy Charles, second in both the Cape Derby and the Track And Ball Derby, because he was gelded on Monday.
"We will see how he takes this and then work out a programme for him," said Brett Crawford who confirmed that the unbeaten Somerset and Cape Nursery winner Armando is in quarantine for Hong Kong. Interestingly he is rated only 102, the same mark as controversially given to maiden winner General Franco.
KRA Guineas winner Twist Of Fate, placed in the Vodacom Durban July and earner of more than R3 million, could start this season's campaign in the Matchem Stakes at Durbanville on October 5.
Joey Ramsden, who won the Matchem with Variety Club and Act Of War, said: "Twist Of Fate is enjoying a holiday at the moment after having a great season but he could well start off in the Matchem."
The opposition may include Head Honcho, winner of the Premier Trophy and third in the Sun Met, as Andre Nel reports: "The Matchem would be tempting. Otherwise the plan is a copy and paste of what he did last season. He has been wintering in Natal as the weather is so much warmer there but I may move him back to Cape Town in another week or so."
The Matchem's sister race, the Diana Stakes, is expected to be the starting point for last season's Sweet Chestnut and Stormsvlei Mile winner Helen's Ideal. "She has gone to Mike Stewart's place at Noordhoek for a holiday on the beach," says Paul Reeves. "But it's more than likely that the Diana will be her first race of the season."
Winter Derby winner Dharma will be back in action as early as Saturday week.
"The Kenilworth race will be his prep for the Setttlers Trophy at Durbanville on September 28," reports Geoff Woodruff's daughter and Cape Town assistant Lucinda.
"He will then go for the stayers' races at Kenilworth right through to the end of February."
www.goldcircle.co.za
‹ Previous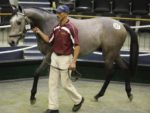 Up, Up – And Getting There