There have been some important changes to the Western Cape feature races for the upcoming Summer Season.
In a notification today, the National Racing Bureau has issued the following advice:
The Sun Met is being run on the first Saturday in February.
The Cape Fillies Guineas has been moved to the second Saturday in December and the Cape Guineas to the 3rd Saturday in December, allowing 3 weeks from Gauteng's Dingaans at the end of November and the Highveld's Fillies Mile will be run 3 weeks before the Cape Fillies Guineas.
The Cape Derby has been moved off Sun Met day towards the end of February, allowing the top threeyear-olds to run in both the Sun Met and the Derby.
The movement of the Derby means that the Politician Stakes (Derby Trial) moves off LQP day and is now run on Sun Met day.
The Diadem Stakes, Prix du Cap, Cape of Good Hope Nursery and Kenilworth Fillies Nursery have moved to 22nd February, creating another 'Mega Day' of racing 3 weeks after the Sun Met.
Moving the two Nurseries earlier in the year is being done in the hope of attracting bigger fields as well as an additional opportunity for youngsters who did not win the Juvenile Stakes on Met Day.
‹ Previous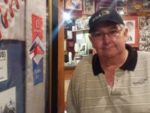 Please help Kelvin