Equus Champion Owner Chris van Niekerk's sobering reference to crocodiles and common sense in his attention-grabbing acceptance speech on Tuesday evening had us listening – but where to now?
Mr Van Niekerk's call for unity, illustrated by an African proverb, echoed back to his address at the opening of the 2018 CPYS in Cape Town where he was one of the first to come out publicly about Markus Jooste.
He counselled then that we had the right to be sad or angry, while conceding that he was in the 'sad corner' and would opt to remember the value added over the years to the industry and lives by Jooste.
Fast forward eighteen months and he is calling for unity – asking us all to see through 'the noise' and realise that 'things are never as bad as they seem'.
"There should be no negativity. Nobody should be negative."
We are trying – trying very hard. The press are supposedly the link between the inhabitants of the ivory towers and the ordinary man on the ground.
It's been two years since the media got the boot from Equus – but we won't be negative.
It's been a month since Phumelela's crushing SENS announcement.
We have asked and asked and asked.
About stakes cuts. About significant stakeholders. About who is doing what. But, hey, we won't be negative.
The crocodiles are silent, Mr van Niekerk.
Read more Equus and other news – click the image below
‹ Previous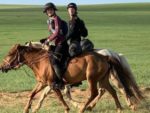 Julia Does Ridgemont Proud