The Equus Awards voting panel submitted their final selections following the Greyville meeting on 27 July 2019.
The voting panel comprised of Matthew Lips, Alistair Cohen, Lennon Maharaj, David Thiselton and RA chairman Larry Wainstein as non-voting chairperson.
The panel submitted their first round of nominations after Vodacom Durban July Day and voting for the finalists took place after the Gold Cup race meeting.
The categories and finalists are:
Champion 2yo Colt
Eden Roc
Got The Greenlight
Champion 2yo Filly
Champion 3yo Colt
Chimichuri Run
Hawwaam
Soqrat (AUS)
Champion 3yo Filly
Celtic Sea
Clouds Unfold
Front And Centre
Return Flight
Silvano's Pride
Champion Older Male
Do It Again
Kasimir
Pacific Trader
Rainbow Bridge
Champion Older Filly/Mare
Camphoratus
Oh Susanna (AUS)
Champion Sprinter  (1000-1200m)
Celtic Sea
Chimichuri Run
Kasimir
Pacific Trader
Champion Miler  (1400-1600m)
Celtic Sea
Do It Again
Soqrat (AUS)
Champion Middle Distance (1800-2200m)
Do It Again
Hawwaam
Rainbow Bridge
Champion Stayer (2400m and up)
Dynasty's Blossom
Magnificent Seven
Return Flight
Samurai Warrior
Walter Smoothie
The awards are based on graded races and in particular Grade 1 races.
As regards the stayer category, the winning horse will be at the discretion of the voting panel.This decision was taken as the only Grade 1 race in SA is the SA Derby, which would mean that this should be the obvious winner based on a single run. This would also have excluded fillies and mares.
The awards will be held at a function on Tuesday 13 August.
Vote in our poll
‹ Previous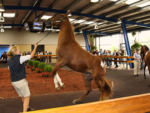 New Age Horse Sales