There are nine races carded on the turf at Fairview today.
The first is off at 12h05, with the first leg of the Bipot (the second race) at 12h35.
The feature is the non black-type Founders Trophy – the seventh race.
Alan Greeff has a strong coupling of Union Jack and the sTREpossible value horse, Streak Of Silver.
The false rail is set at zero to the 1200m, increasing 1m to the 800m, with a 3,5m spur.
First-timers / Rested horses comments
1 12:05 – ITSARUSH.CO.ZA WELCOMES YOU MAIDEN PLATE
7 AQUA BOLT W A Nel: No comment given
8 HUMANITARIAN JVA Strydom: Too short
9 MARCELLIN S B Kotzen: Been gelded, will probably need the run back,
too short
10 ROCK ALOE A C Greeff: No comment given
11 WHISPERING JACK D A McKenzie: No comment given
12 WICKED GRIN D A McKenzie: No comment given
13 COIN MISTRESS JVA Strydom: First run for stable
14 ROYAL ELITE G D Smith: Expected to be green
15 TAWNY JET A C Greeff: No comment given
2 12:35 – ALL TO COME MAIDEN PLATE (F & M)
4 ASCENDING HEIGHTS A C Greeff: No comment given
12 RUBY DAWN A C Greeff: No comment given
13 SAFFRON WATER S B Kotzen: Will need the experience
15 TOSTADA W A Nel: No comment given
4 13:40 – TAB PAYS THE FULL DIVIDEND, NO LIMITS MR 82 HANDICAP
8 SELAILAI W A Nel: No comment given
8 16:10 – PLAY SOCCER 6, 10 and 13 FM 88 HANDICAP (F & M)
1 OUTLANDOS D'AMOUR A C Greeff: Working nicely
9 16:45 – NEXT FAIRVIEW RACEMEETING MONDAY 2 SEPTEMBER MR 68 HANDICAP
6 MYVIEW JVA Strydom: Working well
Comments by Phumelela Publishing
‹ Previous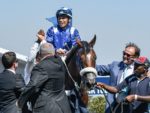 Diego Takes An Island Contract