The withdrawal of KZN-based horses this morning from today's Flamingo Park racemeeting as a result of a lack of transport appears to have been based purely on commercial considerations.
The loss of any carded runner impacts on turnover and while the overall effect on Flamingo Park's big day is minimal, it is a pity to not have any KZN competition – particularly with Kum Naidoo having enjoyed success at the venue in past seasons. He had no runners today.
South Africa's leading transport contractor Peter Choice explained that he had quoted trainers prior to final acceptances for the meeting for a partially filled sixteen berth truck from Summerveld to Kimberley.
"It's economies of scale in terms of providing the float. The truck wasn't full but I provided a quotation and required the account to be paid up front.You will appreciate that service providers can't act as a banker. It's that simple. I see Mr Naidoo didn't accept with his entries and this obviously skewed the costs for the other guys. I was all set and planned to fulfil my obligation to the customers," said Peter.
‹ Previous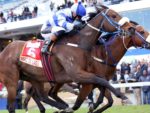 Travel Diamond Class Today