It is Flamingo Park's rare Saturday slot today and with three feature races carded and a R2 million Pick 6 pool projected, it should be a tough meeting to crack.
A sunny day is forecast  with the first of nine races off at 12h20.
Trainer Corrie Lensley spoke to us earlier in the week and gave some of his thoughts on his runners today:
Race 1:Capezio – Needs to improve
Race 1:Eskista – Has ability. Was a rig but has had the operation  and a chance to run into money
Race 1:Master Of The Sea – Has first run for us. Putting up nice work and can run into money
Race 2:Diamond Mine – Not yet ready
Race 2:Southern Dynasty – Small horse but nice and nuggety – should be in the money
Race 3:Jungle Jane – Formerly with Lucky Houdalakis. Decent chance if she takes to sand
Race 3:Meet The Logans – Fair run last time. Back end of quartet prospect
Race 4:Prince Josh – Should go very close
Race 4: Zaragoza – Carrying a bit of condition – but a lovely horse and could be thereabouts
Race 5: Carefree – Not yet ready
Race 5: Ruby And Roses – One of our best on the day. Nursery winner and can go in again
Race 6:Calls To Heaven – Three fair runs after maiden win. He is maturing nicely and has a chance
Race 6: Jolly Josephine – Another of our top runners on the day. Has a good chance here
Race 6:Vintage Tune – Not at best but can improve
Race 7: Ahead Of Traffic – Scratched
Race 7:Mac De Lago – Class horse in race and very sound. Has an action that suggests he may not suit sand
Race 9 :Hector Heathcote – Good horse and we have hopefully sorted out his hanging issues.
Race 9: Windcheater – Go very close! Good chance
Have you read Corrie's interview?
First-Timer / rested horses comments
1 12:20 – WSB.CO.ZA WORKRIDERS MAIDEN PLATE
13 LOVE AWAITS YOU D Cason: Will need the experience
2 12:50 – WSB LEADERS IN EARLY BETTING MAIDEN PLATE (F & M)
6 DARIA L J Erasmus (Jnr): No comment given
8 HOME COUNTRY L J Erasmus (Jnr): No comment given
9 JUMEIRAH J V Rugg: May need the run
4 13:55 – WSB PROUD PARTNER OF LOCAL RACING MR 72 HANDICAP
8 WARBASH G Theron: Will need the run
6 15:05 – RACING ASSOCIATION DIAMOND STAYERS (Non-Black Type)
5 SEATTLE WONDER WGC Miller: No comment given
7 15:40 – RACING ASSOCIATION FLAMINGO MILE (Non-Black Type)
6 AHEAD OF TRAFFIC C J Lensley: Scratched
These comments by Phumelela Publishing 
‹ Previous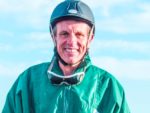 Kenilworth – Better Weather Today!