The abandonment of Thursday's Vaal meeting final race following a protest by the jockeys in regard to safety and inconsistent underfoot conditions, has had a few stakeholders asking for a copy of the O'Connor Commission of Inquiry instituted in October 2018.
Phumelela CEO John Stuart appointed  Andy O'Connor, a former chairman of the NHA, to lead a commission to review the track management systems for Phumelela after repeated track problems surfaced.
According to Stuart at the time, O'Connor's independence and integrity was above reproach, making him the perfect candidate to lead a team tasked with making recommendations to Phumelela.
Part of O'Connor's mandate would be to investigate track management processes and the ways in which they could and should be improved, to draw up Standard Operational Procedures regarding the implementation of improved track management processes, and to ensure the alignment of the maintenance of training and racing tracks, with the feature race calendar at the various racing courses.
Saturday's Durbanville meeting has been switched to Kenilworth – a clear sign that there are issues with the country course surface too. Some of the technicalities were explained to the Sporting Post on request in June this year.
‹ Previous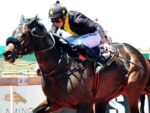 NHA: Steph Miller Stable In News Again