James Armitage, Chairman of the Cape Breeders Club, writes that it has come to the organisation's attention that a member of the larger Horse Racing community is in dire need of some financial assistance.

Kelvin Haarhoff of the winners bar at the TBA Complex in Germiston suffered a stroke some time back, as a result he has a huge medical bill and faces regular medical costs. Kelvin has been at the winners Bar for many years, he has always been very helpful and generous, he was instrumental in raising funds for Johan Van Eck after his illness, Alistair Cohen, Nico Kristiosis, Benny Little, Dave Mollet and a host of other people. This time it is Kelvin who can do with a bit of help.
The  Eye Of Africa has opened their course on Monday 12 August, they are hoping to get 15 four balls with some prizes.
If you would like to make a contribution the bank account details are show below.
In times like this every bit helps and Kelvin would be most grateful.
First National Bank / Current Account
Name Of Account: Cape Breeders Club
Account Number: 62033304362
Branch code: 200612
‹ Previous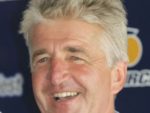 No Bragga As First-Timer Goes Missing