Hartley (SA) Pty Ltd will be holding two dispersal sales under the auspices of Bloodstock South Africa, with Broodmares and Yearlings being sold in abstentia on Wednesday 28 August at 13h00 at the Four Cousins Restaurant in Robertson.
Horses in Training and Unraced Two Year Olds will be sold on Wednesday 4 September at Randjesfontein (time to be confirmed).
Printed catalogues will  be distributed where possible and the catalogue is available online on the Bloodstock South Africa website: www.bsa.co.za
For any other information regarding individual lots, please contact Peter Gibson on:
M – 083 406 4881 / E – pgbloodstock63@gmail.com
For information on the auction, please contact Michael Holmes:
M – 082 552 6524 / E – michael@equine.co.za
Read the Broodmare profiles:                                 
Dancewiththestars (Victory Moon x Ripping Star) In Foal To Crusade
Privately purchased, she is a twice winning half sister to SA Derby 3rd, Rippling Ring. A big rangy mare, her second foal by Eightfold Path, Thomas Tucker, is well regarded by trainer, Duncan McKenzie, who purchased him from last year's BSA Ready To Run Sale. Now in foal to the recently deceased, Crusade, she produces good looking, good sized foals.
Detectorist (Al Mufti x Visionary) In Foal To  Eightfold Path
Purchased at the 2016 BSA Cape Mare Sale for R105 000 as Lot 20.
A 6 x winning daughter of Champion Broodmare sire, Al Mufti, Detectorist's first foal, Forest Jump (Where's That Tiger) looks to win shortly after being placed in both career starts for Daryl Moore. Now in foal to the blue-blooded and productive sire, Eightfold Path, Detectorist remains a mare with potential.
Joyful Spirit (Daylami x Royal Reserve) In Foal To Time Thief
Purchased privately from Knut Haug whilst still in training with Dennis Drier, Joyful Spirit, showed tremendous potential as a racemare before injury curtailed her career. By the great racehorse and now emerging broodmare sire, Daylami, Joyful Spirit, defied many parts of her pedigree by winning three times over 6f. A beautifully put together mare of good size, she is another in foal to Time Thief (AUS) to take advantage of the successful cross of Danzig line sires onto Daylami mares like young sires, James Garfield (Exceed And Excel) and Arcano (Oasis Dream).
National Arabian (National Assembly x Al Damirji) In Foal To                            Eightfold Path
Purchased from the 2016 CTC Mare Sale for R225 000
National Arabian's family received another boost with the quality performances of her sister's son, African Warrior, who closed his 2yr old campaign with a smart victory in the Gr.2 Umkhomazi Stakes at Greyville. Now in foal to Eightfold Path (USA), this mating was planned on the back of his success with Danzig line mares, producing multiple winners like Brigtnumberten, Hartleyfour, Born A Bully, Eightfolds Lass etc. National Arabian is a 5 x winning sprinter half sister to Gr.1 winner, O Caesour.
Prairy Star (National Emblem x Prairy Island) In Foal To What A Winter
Purchased from the 2016 BSA Cape Mare Sale for R190 000 as Lot 95.
A big, rangy chestnut, Prairy Star, won 4 races from a mile to ten furlongs and is a half-sister to the talented galloper, Robinson Crusoe, from the Gr.1 Fillies Guineas winner, Cool Success. With her first two foals by promising sires, Master Of My Fate and Vercingetorix (offered as Lot 26), she offers buyers significant upside and is carrying to the quality sprinter and successful sire, What A Winter, who should suit her perfectly in terms of physical and pedigree influences.
Precedent (Model Man x Legal Find) NIF
Purchased from the 2016 KZN Premier Mare Sale for R170 000.
A 7 x Gr.3 winning sister to Gr.1 winner, Legality, Precedent is a quality dark bay mare with only one line of Northern Dancer in her predominantly French pedigree. Already a producer of two winners from 4 runners, her Linngari 3yr old, Set The Standard, is well regarded by Lucky Houdalakis as a staying horse of good potential and her Eightfold Path 2yr old filly was bought by Michael Roberts who could not fault her. Her mating with Ideal World in the last two seasons did not bear fruit, so she is available for an early cover this year.
Quick Delivery (Jet Master x Carta Expressa)  In Foal To Act Of War
Purchased from the 2015 Scott Bros Dispersal Sale for R17 000.
As a good sized Jet Master mare, she was specifically purchased for Eightfold Path and has since produced three outstanding colts, the first of which was bought at last year's BSA Ready To Run Sale and is expected to make his debut in the spring. Quick Delivery is out of the imported Argentinian Lode mare, Carta Expressa, whose progeny have enjoyed good success and includes the promising Eightfold Path colt, Teichman, placed on his only start. Now in foal to Dynasty Gr.1 sprinter / miler, Act Of War, Quick Delivery could still be anything.
Reigning Queen (King Of Kings x Melting) In Foal To                         Pomodoro
Acquired privately, Reigning Queen typically produces good looking, correct individuals with good size and substance. Her latest foal, a cracking yearling colt by Ideal World (selling as Lot 28), is testimony to this and her current mating to Pomodoro looks to be perfect for her physically.
A daughter of the lightning fast sprinter, Melting, Reigning Queen has produced a multiple winner in the form of Highway Eightyfive and her Eightfold Path gelding Noble Duke is sure to improve on his record with Yvette Bremner.
Saltwater Girl (Modern Day x Surfer's Eye) In Foal To Act Of War
Purchased privately from co-owner, Bruce Le Roux, Saltwater Girl was a highclass winner of 7 races including the Gr.2 Gold Circle Oaks. By the blue-blooded multiple Gr.3 winner, Modern Day, she adds Elliodor and Sir Ivor to her female line and is a half sister to the high class gallopers, Admiral's Eye and Shogunnar. Her first foal, Perfidia, was a R325 000 purchase by Gavin van Zyl, who showed serious potential when winning her second start with ease. Van Zyl then followed up with Al Jazeera who looks to break his maiden shortly. Her mating to the big, rangy Act Of War is a logical move to give her progeny some height.
Sea Fan (Jet Master x Bahama Coral) In Foal To Global View
Acquired privately, Sea Fan showed early promise when winning her maiden over 1400m. A typically good looking daughter of the incomparable Jet Master, she hails from a top class female line that includes Wainui, Pointing North and gr.1 sprinting brothers, Rodoille and Blue Tiger, and clearly deserves a chance at stud. Her first foal by Great Britain (selling as Lot 32) is a good sixed, racing individual and her mating to the successful selling freshman sire, Global View, is exciting given the market's love affair with the son of Galileo.
Seattle Spark (Sail From Seattle x Star On Stage) In Foal To                           Global View
Purchased from the 2016 BSA National Yearling Sale for R240 000 as Lot 349.
Bought with a long term view of becoming a broodmare from Ascot Stud's quality imported Sadlers Wells mare, Seattle Spark, showed plenty of speed for Dennis Drier, but never enjoyed much luck and was retired soon after being galloped into. Her half sister, Stage Dance, was bought for R550 000 by Yulong Investments at the 2018 NYS, showing good potential having won her second start in facile fashion.
Seattle Spark's only cover to Global View was successful and she is due to foal down in October.
Sebonac (Trippi x Indian Torrent) Aborted
Purchased from the 2016 BSA Cape Mare Sale for R200 000 as Lot 113.
A lovely, big mare by emerging broodmare sire, Trippi, her first foal by the much lamented Kingsbarns sold for R400 000 to David Ferraris. In training with Frank Robinson, he is expected to Barrier Trial in the next few weeks having shown excellent work at home.
Imported by Drankenstein Stud, Sebonac's three parts brother, White River, showed high class form as a three year old finishing second on the Gr.1 Cape Guineas and now has no peers in Mauritius. She hails from a highly successful French female line which includes big name sires like Dancing Brave and Habitat. Her cracking Eightfold Path colt is offered on this sale as Lot 33. Having aborted to Admiral's Kitten, she is available for an early cover.
Secret Magok (Mogok x Secret Superjet) Foal Died
Purchased from the 2016 BSA Cape Mare Sale for R60 000 as Lot 114.
Like her Jet Master dam, Secret Superjet, Secret Magok was a tough sprinter/miler, winning 7 races and placing 9 times from 28 career starts for trainer Stuart Pettigrew. Sadly, her dam only produced one foal and thus limited her page. So, when Secret Magok's first foal, a strapping colt by Vercingetorix was given a score of 9/10 by Jane Thomas, her pedigree was deemed too light and was rejected at the final selection. Gavin Smith then shrewdly picked her colt up at the KZN Yearling Sale for a paltry R60 000. Now named Hooves Of Troy, he has won 2 from 5 starts, including the Listed Dahlia Stakes and a tremendous close up third to African Warrior from a wide draw in the KZN Million Sales race – Gavin has big plans for Hooves Of Troy in the coming season. Unfortunately, her Crusade foal died during foaling on 30 July. Prior to the decision to sell up, she was booked to revisit Vercingetorix this season.
Stellenbosch (Jet Master x Strategic Quest) In Foal To Eightfold Path               
Bought as part of a package from Knut Haug, the unraced Stellenbosch made a great start to her career as a broodmare when her first foal by Toreador, Hottentots Holland, made a winning debut and in the process easily beat subsequent Stakes performer, Pretty Border, who finished close up in the Listed Oaks Trial, Gr.2 SA Oaks and Gr.2 Gerald Rosenberg, only beaten 2.9 lengths by Return Flight in the last mentioned race. Hottentots Holland sadly suffered a foot injury after the race and was rested for the winter with the intention of bringing her back into training in the spring of this year. Stellenbosch has since thrown a quality 2yr old colt by Eightfold Path and a yearling filly by Flying The Flag (selling as Lot 34) on this catalogue. Based on the success of Jet Master mares with Eightfold Path, in particular The Rising Legend, Stellenbosch is again carrying to the son of Giant's Causeway.
WITHDRAWN
Summer Dew (Joshua Dancer x Regal Guest) Not Covered
Privately purchased, Summer Dew is another whose catalogue page was limited by the early passing of her grandam, Summer Friends, whose only foal turned out to be the multiple Stakes placed sprinter, Regal Guest. Regal Guest in turn produced a host of winning sprinters including the 5 x winning Gr.1 placed, Hundredpercent and Summer Dew herself who showed the precocity to win a 4f dash.
Built like a speed ball, both of her runners to date have won multiple times over the sprint distances, Brigtnumberten (4 wins) and Hartleyfour (2 wins), being sons of Eightfold Path whose affinity with Danzig line mares is well documented. Summer Dew's last foal is a very strongly made son of Global View and she was not covered last year, so is available for an early cover.
Sustain Space (Spectrum x Waterwise) In Foal To Pomodoro
Purchased from the 2016 BSA Cape Mare Sale for R100 000 as Lot 134.
By respected international broodmare sire, Spectrum, Sustain Space showed tremendous speed winning four races over the sprint distances. A daughter of the classy sprinter, Waterwise, her half sisters have all produced winners including the Gr.1 placed Neptune's Rain.
A strongly built chestnut, she throws good looking foals which have been popular in the sales ring. Her first colt by Potala Palace fetched R180 000 and her Time Thief colt was very popular at this year's NYS, just failing to make his reserve of R250 000. The Time Thief colt is scheduled to be sold on the Horses in Training Sale at Randjiesfontein on 4 September whilst her rangy Twice Over yearling colt is offered as Lot 36 today.
Trippissa (Trippi x Issa) In Foal To Elusive Fort
Purchased from the 2018 BSA Cape Mare Sale for R200 000 as Lot.
Clouds Unfold really gave this quality imported pedigree a local boost when stepping up on her earlier form to land the Gr.1 Majorca Stakes. From the family of the high class Gr.1 Yorkshire Oaks winner, Catchascatchcan, and her Gr.1 performing sire son, Antonius Pius, Trippissa was thought good enough to take her chance in the Gr.2 Choice Carriers Championship, finishing less than 4 lengths behind In The Fast Lane.
With only one line of Northern Dancer in her pedigree, she is easy to mate and her cover to Elusive Fort scored highly by respected pedigree experts. Her first foal by Ideal World is now 2yrs of age.
Tropical Blow (Dynasty x Tropical Snow) Maiden
Purchased by respected judge James Bester (as agent for Trelawny Stud) at the 2015 NYS for R450 000 as Lot 442.
A great looking daughter of Dynasty, Tropical Blow showed early form for Paul Lafferty, winning over 1400m and placing often before injury curtailed her career. Her dam, Tropical Snow, the full sister to the outstanding Crimson Palace, was considered good enough to be campaigned abroad winning twice in the USA before returning to South Africa to take up stud duties. She was not covered last year and is available for an early cover.
Welsh Parade (Parade Leader x Welsh Pagan) In Foal To The United States
Welsh Parade is the half-sister to Hartley SA's classy Gr.3 East Cape Derby runner-up, Welsh Emperor, and was specifically acquired to visit the vastly underrated Go Deputy, thus making the progeny a three parts sibling to Welsh Emperor. The result was a colt who is offered as Lot 37 later in the Sale. She is also a half sister to the dam of the Champion, Edict Of Nantes, now campaigning in HK.
Welsh Parade suffered bad luck early in her career as a broodmare, but has a speedy 3yr old daughter of Toreador, Matadora's Parade, in training with Johan Janse van Vuuren who is expected to debut soon. Her mating to the super tough son of Galileo, The United States, introduces a double of Mr Prospector and Nureyev.
What A Player (What A Winter x Shaan Madaary) Maiden
Purchased from the 2016 BSA NYS for R300 000 as Lot 322.
A beautifully balanced yearling, What A Player was purchased with a future breeding career in mind having significant breed influencers in her female line like Darshaan, Green Desert and High Line, as well as class perfomers, not least last year's top miler in the UK, Kodi Bear, and her half brother by Silvano, S'il Vous Plait, the 9 x winning, Gr.3 placed stayer.
Showing early ability, she was touched off in two Listed Miles in Port Elizabeth, possibly her best performance coming against the colts in the East Cape Guineas. An injury curtailed her racing career and she retires to stud with the all important Black Type against her name. Another with little Northern Dancer in her pedigree, she has many attractive mating options for her new breeder.
Wild Honey (AUS) (Starcraft x Quicken) In Foal To                                Jackson
Bought as part of a package from Knut Haug, the imported Wild Honey never achieved her potential as a racehorse, winning her maiden over 6f before retiring to stud where she enjoyed immediate success with her first foal, the very talented, but ill-fated son of Visionaire, Aggressive. The big bay sprinter won 2 of four starts for the late, Stanley Ferreira, before breaking down in racing. Her second foal is also talented, Wild Curve (Curved Ball) winning two races. Following visits to Toreador and Just As Well, neither of which have run, her last foal is a strongly made sister to Aggressive and is offered as Lot 38. Wild Honey is a big rangy mare with quality elements from both sides of the world.
Brigtnumberfive (Kahal x Star Role)   Maiden
Talented homebred winner of four races up to a mile achieving MR86 whose trademark turn of foot supported trainers, Drier and Magner, belief that she could have achieved Black Type but for the loss of her starting stall certificate. By promising broodmare sire, Kahal, from speed family, she is a beautifully put together mare standing 16h and enters her first season at stud.
Brigtnumberfour (Kahal x Irish Honour) In Foal To Time Thief
Purchased privately, like her Gr.1 Computaform Sprint winning full sister, Noble Heir, Brigtnumberfour won 3 races over the minimum trip and was runner up in the Listed Banyana Handicap. Like many of her high-quality family, she is not a big mare, but is powerfully built, standing over good ground. Noble Heir now stands in Australia and has already produced a Gr.3 winner by Nureyev line horse, Star Witness.
Brigtnumberfour was specifically mated to the beautifully bred Time Thief (AUS) who has achieved Gr.1 winners in Australia and lots of success in South Africa's target markets HK and Singapore.
2018 Yearlings:
LOT 25. Unamed bay filly (Judpot  x Brigtnumberfour)
Like her dam, a compact, well balanced and correct filly with substance and a good length of rein. Judpot has done it already
LOT 26. Unamed bay filly (Vercingetorix x Prairy Star)
A correct, rangy type of filly, very much on the leg by the sire of the moment, Vercingetorix
LOT 27. Unamed bay colt (Eightfold Path x Quick Delivery)
A big, strong and correct colt with lovely balance for a powerful individual – bred on the same cross as the very talented, The Rising Legend
LOT 28. Unamed chestnut colt (Ideal World x Reigning Queen)
A big, strong correct individual with a great temperament by a top sire
LOT 29. Unamed bay colt (Eightfold Path x Sacred Temple)
A late foal, but neat and correct and will improve with time – his full brother is now in training with Gavin Smith.
LOT 30. Unamed bay colt** ( Vercingetorix x Saltwater Girl)
Like his dam, the quality colt is a well balanced individual (** Note: veterinary report)
LOT 31. Unamed bay filly (Just As Well x Sarasini)
By the underrated Gr.1 winning AP Indy sire, Just As Well, this quality filly enjoys lovely balance, strength and great confirmation. The last foal from her beautifully bred imported dam.
LOT 32. Unamed bay filly (Great Britain x Sea Fan)
A lovely first foal from her good looking Jet Master dam, she is bound to be of interest to trainers who enjoy training sprinters, Great Britain being that sire
LOT 33. Unamed bay colt (Eightfold Path x Sebonac)
Like the Quick Delivery colt by Eightfold Path, this individual is hard to fault and comes from a top female line.
LOT 34. Unamed bay filly (Flying The Flag x Stellenbosch)
A big, rangy type on leg, but nicely balanced and athletic, a good example of her exciting sire, Flying The Flag (Note: vet report)
LOT 35. Unamed bay colt (Global View x Summer Dew)
Like his dam, this dark bay colt is compact, strong and correct in the mould of his talented, multiple winning half brothers, Brigtnumberten and Hartleyfour.
LOT 36. Unamed chestnut colt (Twice Over x Sustain Space)
A big, rangy Classic type with clean limbs by a sire capable of getting big race winners.
LOT 37. Unamed bay colt (Go Deputy x Welsh Parade)
Like many of the Go Deputy progeny, he is an immature type, but is well balanced, correct and racy. A three parts brother to the Stakes placed Welsh Emperor, his sire Go Deputy justifiably still commands respect in the Sales ring, his progeny making up to R180 000 this year.
LOT 38. Unamed chestnut filly  (Visionaire x Wild Honey)
This striking filly is of good size, correct and very strong and is a full sister to the highly talented, but ill-fated Aggressive who won 2 from from starts before injury sadly curtailed his career.
Ed – This information was provided by the Vendor
‹ Previous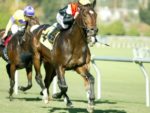 A View To A Thrill!