The Hong Kong Jockey Club has appointed Michael Kinane and Crispin de Moubray to lead its purchases of young stock from the industry's top Northern Hemisphere auctions.
Each year, the Hong Kong Jockey Club purchases  unraced youngsters to be offered at its exclusive Hong Kong International Sale.
The Hong Kong Jockey Club purchased four colts at the recent 2019 Arqana August Yearling Sale in Deauville, France, for a total cost of €745,000 (approximately HK$6.5 million).
They purchased:
Lot 18 b c Frankel ex Souvenir Delondres (Siyouni) – €400,000
Lot 25 b c Muhaarar ex Suissesse (Malibu Moon) – €150,000
Lot 127 b c Charm Spirit ex Militante (Johannesburg) – €130,000
Lot 217 db c Holy Roman Emperor ex Heart Of Ice (Montjeu) – €65,000
Kinane retired from the saddle in 2009 as a world-renowned big-race jockey and 13-time Irish champion, with victories in the Prix de l'Arc de Triomphe, Melbourne Cup, Japan Cup, Belmont Stakes and Derby on his illustrious race-riding record. He enjoyed major successes as a rider in Hong Kong, too, notably four wins at the Hong Kong International Races and Viva Pataca's 2007 QEII Cup victory.
De Moubray, a bloodstock agent for almost 30 years, has been part of the Club's purchasing team for several years.
‹ Previous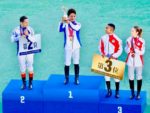 Karis Ties For Third