There were many conversations around the National 2yo Sales ground about the state of our 'industry' last week.
Writing ins his eNews, John Freeman says that was mostly from breeders expressing doubt as they face investing in the production of another new crop, it's part of every farmer's process "am I doing the right thing?".
This is not the first time our industry has faced an economic crisis and/or political interference and upheaval.
In my 45 odd years working in this game I have seen worse – much worse.
I was reassured back then, and I pass that message of reassurance today; racing is bigger than any individual or group of people – we will always breed and race horses; our passion and love for horses and the competition of racing will never be beaten down.
2019 Equus Champion Owner Chris van Niekerk's speech at the Equus Award hit the nail on the head.His speech was a strong reminder of why we need to ignore nay-saying 'crocodiles'  and industry doom merchants.
He agreed that people in racing had the right to question and get angry but he called for unity, saying that 'things are never as bad as they seem'.
"Nobody should be negative."
Coming from a man who has invested so much and done so much for racing I salute Chris for his commitment and input.
His award as champion owner well deserved.
‹ Previous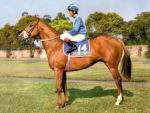 Café Corners The Winners