Everyone knows what's wrong with racing.
Everyone has an opinion, and that's the way of the world.
But do you ever get the feeling that the world isn't as thoughtful as it once was?
Not that we get things right or wrong more, just that we haven't mulled it over as much, that we arrive at answers by choosing a side?
Tony Mincione writes that in his opinion, nothing highlights racings' problems more than have a MAIDEN PLATE offered as a MAIDEN HANDICAP.
We must ask: if this is the answer, then what is the question?  Whose side is it?

So maiden races are for horses that have never won a race.  It's racing's entry-level.
Sure there are some practical concessions, there is a simple WFA formula so that 3-year-olds and 4-year-olds meet, there is a sex allowance to encourage fillies to race against colts, and we keep 2 year- olds separate until they are closer to 3.
But in principle, the entry-level of the sport is to be able to win a race before choosing your career path. You can compete, without worrying about merit ratings or conditions, and always against horses who have never won.
Over time it has proven to be an excellent system.  Roughly speaking, the horse population has been divided into two groups, horses who never win a race and those that win 1 and more.
The South African racing we are all so proud of when our horses go overseas and shock them, from London News, Sun Classique,Victory Moon, Ipi Tombe to JJ the Jet Plane and Variety Club etc, are horses that are standing on the shoulders of a system that asked only one condition: that the first test that everyone goes through is the same entry exam for all, a not negotiable benchmark where your first victory is fair, without concessions or handicap advantages.
The brilliance of this is that as a breeding country we can trust that a winner in the studbooks is exactly that.
That if a mare has a winner, we understand what it means.  If a stallion has a winner over a mile, we know what that means.  We know what it means if you win in your first two runs (Met and July fields consist of horses where 9 out of 10 have won in their first two starts).
It's a basic separating the wheat from the chaff.
This may not seem a big deal, but horse racing is a game of so many variables that after so many advances, after great statistical improvements in form guides, after digital timing, after computer analysis, money still doesn't guarantee anyone success.  So the benefit of an entry benchmark gives you the kind of security you see in UK racing where certain pointer races go back 100 years or more.  It's not tradition for tradition's sake – but keeping some things that are tried and tested, and true.
Other than the individuals who would benefit in a race from being weighted to win in a maiden, who would want this?
Now altering conditions so that you do not win because you are ready and able, but because you have failed in your previous runs. Again, who wants this, and why?  I suspect operators and not fans or participants.  And probably not punters who had given up on handicaps and mainly play on maiden races.
Breeders must hate this – your mare has a horse who should have won but doesn't because a proven bad horse gets a 2 or 3 or 8kg advantage. 
To make it even worse, you then enter the handicapping system (post maiden handicapping system) with an advantage that you keep.  If you did receive 8kgs, and you win by a short head, the horse you beat will still have to give you say 7kgs.
We started with a tiered system of racing in South Africa and introduced merit for handicapping believing that it would only affect handicapping.
What actually happened is it consumed everything between Maiden races and Feature races. It changed the whole landscape at the expense of good horses, and at the expense of smaller yards.
Part of horseracing is competition and consequently the pursuit of excellence.  The competition part comes alive because there is this 1 in 10 attrition factor.
Most races have about 10 runners and only 1 can win. As you win you move up with horses that did the same as you.  By the time you are a 4 or 5-time winner (without handicapping), you are part of the top 5%.  With handicapping some other horse will get your spot.
Each Maiden Handicap we have will make rewarding success fairly, more difficult.  If this were a school system, there is a time to help the battler, but also a time to hold back those who haven't made the grade.
Maiden Handicaps is how you promote those who haven't grasped reading yet.  Who wants that?
Ed – Phumelela Racing Executive Patrick Davis confirmed earlier this week that Maiden Handicaps are being trialled on the Highveld.
‹ Previous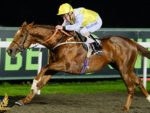 Richest Flat Handicap At York Today