The Ridgemont Racing team in Robertson were drinking a toast this week to a terrific achievement in the world's longest horserace.
Ross Kieswetter's Australian-born partner, 27 year old Julia Conway, one of four South African registered participants, was thrilled with her thirteenth placed finish in the forty-four strong Mongol Derby field. Only twenty riders finished the arduous 1000km contest.
Bob Long, from Wyoming, was the first to complete the race on the eighth day of the unique challenge and also became the oldest person to finish. The 70-year-old set a new standard after the previous oldest winner was 64.
The course in Mongolia is modelled on the postal route and system developed by Genghis Khan in the 13th century. Riders change their semi-wild horses regularly and stay with local herders or camp under the stars.

The Ridgemont team are justifiably proud of the horse crazy Julia who grew up in central Victoria and has ridden her whole life. After school she joined the Royal Australian Navy for a gap year and then went on to study Podiatry.
Featured in the Guinness Book of Records as the world's longest and toughest horse race, this was the 11th year that 44 men and women from the four corners of the earth raced 1000km across Mongolia on semi-wild horses.
‹ Previous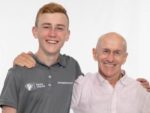 Lloyd Junior Has First Ride