The National Horseracing Authority (NHA) has made it clear there was 'nothing sinister' in the fact jockey Lyle Hewitson's 14-day suspension had been deferred into the new season which began yesterday.
Tabnews reports that on Wednesday at Greyville, jockey Muzi Yeni, who was the other jockey involved in the chase for the 2018/19 season championship title, commented that Hewitson had received a 14-day suspension in April but "they prolonged it until the end of the season and I thought that was very unfair to me".
However, NHA Racing Control Executive Arnold Hyde, confirmed on Thursday that any talk of preferential treatment was "way off the mark".
Comments have been made that in other parts of the world jockeys have to take any suspensions immediately but Hyde points out the rules in South Africa differ from many other countries.  
"We do have the admission of guilt option where a jockey can accept his guilty and then will take his suspension immediately. However, if he is not prepared to sign it then we go to an Inquiry and then there is also the right to appeal.That full procedure can take some time. We need to get an appeal board together and sometimes that is very tough. We use a panel of independent people which is usually from the legal profession. These are busy guys and it can take quite a while to bring them together to hold the appeal.The person who is appealing also has a right to have his lawyer present and he also has to be available."
It still does not end there as the person charged also has the right to have the appeal reviewed, as was the case with S'manga Khumalo in 2013 when he was accused of failing "to take all reasonable and permissible measures to ensure that Supertube was given a full opportunity to win or obtain the best possible placing".
The appeal was only heard in 2014 but it resulted their upholding a 60-day suspension.
Had Khumalo taken the suspension he would have missed out on winning the 2013/14 jockey championship. He then decided to have the review appealed and that gave him enough time to win the title before the review was heard. It was only settled in 2015.
"No fear, no favour. The rules are applied the same way to all," added Hyde. "I would take it badly to be accused of any type of favouritism or bias, everybody should be treated equally."
The NHA also confirmed an Inquiry would be opened into "jockey Muzi Yeni's comments made in an interview after Race 4 at Greyville Racecourse on 31 July 2019".
"An independent board will be set up and they will treat the case on its merits and will decide if there has been a contravention of the rules."
As far as Hewitson's 14-day suspension is concerned Hyde pointed out that it could travel with him when he goes to Hong Kong.
"I have no ideas about his travel plans but if the suspension is upheld it could affect his rides in Hong Kong. We have a mutual agreement with Hong Kong to uphold any bans issued by one another."
‹ Previous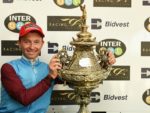 Top Combo Can Get A Flyer Today