Sanctions handed out to trainer Stephanie Miller and jockey Muzi Yeni this past week have evoked public and industry reaction, with suggestions that our racing regulator has missed the boat and are proving largely ineffective.
"Cruelty to animals somehow ranks below financially related offences", suggested a PE-based trainer, who pointed out that a well-established trainer had lost his licence after it emerged that he was training as an unrehabilitated insolvent.
"Let me tell you, he is a horseman and a person who would never do any harm to horses in his care. Maybe there are legal implications in terms of his status. Yet he is sitting outside the circle, while Mrs Miller can continue her business using her  now questionable training methods."
Miller was found guilty of having an electrical and mechanical cattle- prodder in her training establishment – on Phumelela property – as well as using forbidden substances. There was no proof that she had used the equipment.
While the NHA are implementing fines within the ambit of their guidelines, the general consensus is that Miller is lucky to have kept her licence, given the cumulative impact of her offences.
Another caller suggested that fining jockeys for exceeding the crop  twelve-strike rule was laughable and had little effect.
"If the NHA is serious, then give the jockeys time off – proper time. And maybe at the same time consider that the jocks are not the likely perpetrators on average when it comes to horse cruelty. That is the trainer – and Mrs Miller's case raises a good example. And money should not be allowed to simply make things go away while it's business as unusual!"
Muzi Yeni's 90 day suspension for the in-race incident with Lyle Hewitson at Hollywoodbets Greyville on Super Saturday, is also being seen as a bit soft.
The Australian website Justhorseracing.com.au reports in an editorial entitled 'Jockey gets off light for seriously dangerous incident', that in footage that was shades of the most famous illegal battle down the Randwick straight when Mel Schumaker reached down and pulled another jock's leg in the 1961 AJC Derby, the two best riders in South Africa were called into the Steward's room for a please explain.
Their report says that Yeni pleaded not guilty and has the Right Of Appeal.The Stewards outed him for 90 days.
That's a far cry from when the Shoe copped his fine for grabbing Tommy Hill's leg in that AJC Derby.
To recap, and it wasn't all that much different to Yeni and Hewitson, Schumacher was near the rails on Blue Era while Hill, on Summer Fair, was challenging on his outside.
Nothing untoward could be seen from the stands when Schumacher threw his arm out at Tommy Hill.
Back in the enclosure, as the horses returned, Hill screamed out loud and the Stewards hauled them into the room.
The head on footage showed what happened and Mel Schumacher's world collapsed around him.
Schumacher, who had celebrated his 24th birthday only the month before, was outed for life by the AJC Stewards on a charge of foul riding.
The disqualification cut short the career of arguably the most promising and fearless jockey in the country at the time.
Schumacher's sentence was reduced upon appeal, and he got back into race-riding, but the long term on the outer shot his career to pieces.
Even the reduction was scary compared to the 90 days Yeni just copped. The Shoe was banned for 10 years.
‹ Previous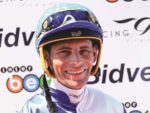 Lerena Out For Six Weeks