The National Horseracing Authority confirms that it has received notification from The Mauritius Turf Club that Jockey Piere Strydom incurred a fine and a suspension whilst riding in that Country.
Jockey Strydom was fined Rs. 50,000 and suspended from riding in races for a period of 6 (six) weeks in terms of their Rules of Racing.
The particulars being that he was found guilty of contravening MTC Rule 160 A (j) in that as the rider of MAN FROM SEATTLE, he failed to ride to the satisfaction of the Stewards from the 400m in Race 2 on Saturday, 3 August 2019.
Mauritius is a Specified Racing Authority in terms of Rule 91.1.2 and as such, the suspension will be reciprocated by The National Horseracing Authority.
Jockey Strydom is suspended from riding in races from 6 August 2019 and may resume race riding on 18 September 2019.
‹ Previous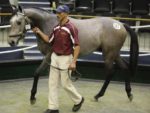 Breeder 'Happy' With R800k