The Qatar Racing & Equestrian Club have three vacancies that they are looking to fill.

Interested applicants are requested to please send a copy of their CV to [email protected] and prepare for potential interviews that will be held on the afternoon of Monday 5 August in Durban.
The positions include that of Equestrian Academy Manager, Horse Riding Instructor and Social Media Co-Ordinator.
Please see all the details by clicking here
Closing time is 10h00 on Monday 5 August 2019.
‹ Previous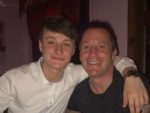 Young Fallon Strikes At Goodwood