The National Horseracing Authority confirms that at an Inquiry held at its offices in Turffontein on 8 August 2019, Jockey M Yeni was charged with a contravention of Rule 72.1.11.
The particulars of the charge being that he, whilst riding the horse MR GREENLIGHT, intimidated and interfered with Jockey L Hewitson when he took his hand off his left side rein and placed it on Jockey Hewitson's arm during the running of the 2nd Race at Greyville Racecourse on 27 July 2019.
Mr Yeni pleaded not guilty to the charge.
The Inquiry Board found Mr Yeni guilty of the charge.
In determining a suitable penalty, the Inquiry Board balanced Mr Yeni's factors in mitigation with the need to protect the integrity of horseracing, the public's perception regarding racing control and from circumstances which have the potential to cause danger to both horse and rider.
Accordingly, the Inquiry Board imposed a suspension from riding in races for a period of 90 (ninety) days.
Mr Yeni has the Right of Appeal against the finding and the penalty imposed.  The Appeal deposit fee has been paid by Mr Yeni.
‹ Previous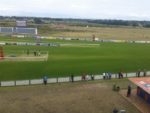 Venue Switch – Saturday