Justin Snaith says jockey Richard Fourie could be his yard's  'best horse' in what he expects to be a very competitive season ahead.
The powerful pair produced a double at Durbanville on Tuesday with Silver Host and Elusive Fortune winning well.
Snaith feels that his first call rider will be one of his biggest assets considering the current jockey situation in South Africa where a few big names are on the sidelines, while others have left for Hong Kong.
Gold Circle reports that Snaith has had two significant retirees from his stable, Oh Susanna and Snowdance, who will both be standing at Drakenstein Stud, and the rest of his top horses have just come back into light work.
Snowdance will be covered by Drakenstein's new stallion Lancaster Bomber, who is the only Gr1-winning son of leading international sire War Front to be standing in either South Africa or the UK.
A decision on who Oh Susanna will be covered by is yet to be made.
Among the horses back in light work at the Snaith yard is Equus Horse Of The Year Do It Again.
Next year's Sun Met is being billed already as the clash of the three titans, Do It Again, Rainbow Bridge and Hawwaam, but Snaith said, "There will be more, it is going to be a very competitive season and there are a lot of good horses around."
One of the challenges he is facing is how to place General Franco, who was lumbered with a 103 merit rating after his debut win.
Snaith said his career was set back six months by this rating and felt the handicappers should have allowed him one more run, where they could have seen something more, "before penalising him so drastically".
He said the plate races usually did not stand up due to lack of entries and putting him as a young three-year-old into a handicap with such a merit rating might discourage him.
His plan was therefore to nurse him at home and build him into what the handicappers believed him to be.
He said the same had happened to Oh Susanna and the handicappers had been proven right but added if they were not proven right in this case he would be dealing with a three-time winner at most due to the mark he was being asked to start off with.
Snaith said General Franco had returned a bit shin sore after his second start but it was not enough to explain his poor last place finish.
He said jockey Greg Cheyne had reported him to be the "first horse gone" in that race.
Snaith was nonetheless looking forward to another good season and said he would have one of his strongest recent strings. He added he had particularly exciting two-year-olds.
‹ Previous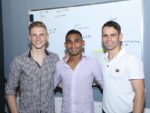 Lyle's Super Sunday Looms Large