When the going gets tough the tough get going, and Thomas Mason obviously believes that.
Starting a new stable from scratch is not easy at the best of times but, undaunted, Tomcat Racing's new yard is looking spick and span and ready for more customers.
Sheldene Chant writes that Borrowdale Park desperately needs another competitive stable and I hope Thomas will soon get all the support he deserves.

He is one of those lucky people who loves what he does, and he has been a familiar face at Borrowdale for years. He was born into racing as his mother, Anna Mason, trained in Denmark and Kenya. Thomas attended senior school in Denmark and took the opportunity to ride work at that time.
He began his racing career in Zimbabwe with the late Murray Lindley, and subsequently joined Kirk Swanson's yard in 2005, becoming an assistant trainer in 2009. He has an eye for a good horse, having been influential in the acquisition of several local stars such as Cape Cod, Haga Haga, In The Mood, and Heir Line, to name a few. He also understands the ins and outs of handicapping, as well as the rules and other intricacies of racing, better than most people.
Thomas sent out 5 runners in the closing stages of the 2018/19 racing season, contesting 8 races for two seconds, a third and a fourth. Not bad for a start! At present, there are nine horses in the yard and there is stabling for 30.
Like most enthusiasts, Thomas follows the international racing scene closely and has a special fondness for English racing. So, guess who managed to attend Royal Ascot this year?
Wishing Thomas every success with his new venture and plenty of new horses, owners and syndicates in 2019/20.
A contact number for Tomcat Racing is +263 775 528 489 or email [email protected]
‹ Previous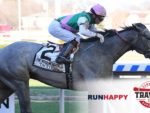 Tacitus The One To Beat