Veteran Gauteng trainer Brian Wiid has passed away in the Union Hospital.
He suffered a stroke over a week ago but was reported to be making progress.
The 72 year old Brian trained racehorses for 45 years and conditioned some top horses, including the likes of champion sprinter Knife Edge and Summer Handicap winner, the Jean Heming 'chuck out', Cardinal Fury.
The Sporting Post extends sincere condolences to his wife Ronel, their family and friends.
A full tribute will follow to one of the great old schoolers of the game.
‹ Previous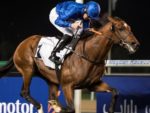 Best Solution For September Stakes