Mike de Kock has nominated his best runners for the R2-million Gauteng Summer Cup at Turffontein on Saturday 30 November and they occupy the first four spots on the log.
There were 45 entries when the first entries closed last week.
There is no first entry fee and as a result Mike de Kock has entered all of his top runners, including Hawwaam, Buffalo Bill Cody, Soqrat and Barahin which gives him and all trainers until 4 November, the date of second entries, to make a decision on whether they want to go further.
The handicappers will publish a weekly log of which runners are in contention to make the final field, although Phumelela Gaming & Leisure reserves the right to have an input into the compilation of the logs & in determining the final field.
Second entries close on 4 November and the weights will be published on the same day. Final entries close at 11am on Monday 18 November with declarations by 11am on Tuesday 19 November. Draws will be announced with the final field on Wednesday 20 November.
Summer Cup Log 2019
Age
Sex
Horse
MR
NMR
Rns
Wns
Trainer
1
4
C
HAWWAAM
131
130
7
6
Mike de Kock
2
4
C
SOQRAT (AUS)
131
130
12
5
Mike de Kock
3
5
H
BUFFALO BILL CODY
125
125
8
6
Mike de Kock
4
4
C
BARAHIN
122
121
8
4
Mike de Kock
5
5
M
CAMPHORATUS
118
118
22
5
R A Hill/S R Hill
6
5
G
INFAMOUS FOX (AUS)
122
122
23
8
Candice Dawson
7
5
H
ROY HAD ENOUGH (AU
118
118
26
6
Frank Robinson
8
6
G
TILBURY FORT
118
118
27
6
Sean Tarry
9
6
M
CASCAPEDIA (IRE)
117
117
15
6
Mike de Kock
10
5
G
DIVINE ODYSSEY
117
117
19
5
J A Janse van Vuuren
11
6
G
DARK MOON RISING
115
115
23
6
Paul Lafferty
12
4
G
ZILLZAAL
114
113
10
1
Sean Tarry
13
4
G
MARCHINGONTOGETHER
116
115
13
4
Gavin van Zyl
14
5
M
INSIGNIS
112
112
15
4
Geoff Woodruff
15
4
F
SEVILLE ORANGE
112
111
13
4
Lucky Houdalakis
16
5
G
NOBLE SECRET
114
114
16
5
Mike de Kock
17
6
H
SHENANIGANS
107
107
16
4
Sean Tarry
18
5
M
ROY'S RIVIERA (AUS
109
109
25
4
Frank Robinson
19
5
M
SECRET POTION
108
108
18
5
Geoff Woodruff
20
4
G
APPROACH CONTROL
108
107
10
2
Candice Dawson
Next 5 in Alphabetical Order
4
G
ATYAAB (AUS)
114
113
11
3
Mike de Kock
5
G
CASH TIME
106
106
21
3
Ashley Fortune
5
G
HORACE
106
106
13
6
Ashley Fortune
5
G
LIKE A PANTHER
112
112
12
3
Mike de Kock
5
M
SUNSHINE SILK
105
105
25
7
Geoff Woodruff
Merit Rating Order
6
G
DOOSRA
112
112
29
6
J A Janse van Vuuren
4
G
THANKSGIVING
108
107
12
2
Mike de Kock
4
F
SECOND REQUEST
107
106
11
2
Sean Tarry
5
G
AMERICAN INDIAN
106
106
28
7
Stuart Pettigrew
6
G
ALI BON DUBAI
105
105
27
6
Geoff Woodruff
4
G
GREEN HAZE
102
101
13
2
Alec Laird
5
G
D' ARRIVEE
99
99
19
4
Candice Dawson
4
G
SEATTLE FORCE
99
98
14
4
Stuart Pettigrew
4
C
AL MUTAWAKEL
98
97
3
3
Sean Tarry
5
H
LORD SILVERIO
95
95
8
3
Sean Tarry
4
G
APACHE TOO
93
92
7
3
Mike de Kock
6
H
DIAMOND DANCER
93
93
21
5
Paul Peter
4
G
RUSSIAN BEAT
93
92
9
1
Sean Tarry
5
G
SILVER GOD
93
93
22
3
Sean Tarry
4
G
SILVER SPECTRUM
93
92
7
3
Sean Tarry
5
G
WONDEROUS CLIMBER
93
93
23
6
Sean Tarry
6
G
SEATTLE SKYLINE
87
87
26
5  #
S von Willingh Smit
4
G
LAST OF THE LEGEND
85
84
7
2
Sean Tarry
4
G
PALACE GREEN
85
84
5
1
Sean Tarry
5
H
COME THE DAY
83
83
24
5
Chris Erasmus
‹ Previous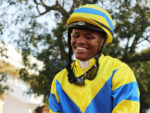 Ngwane Scores At First Meeting